Egypt Antiquities Minister to Launch Tutankhamun's Exhibition in Paris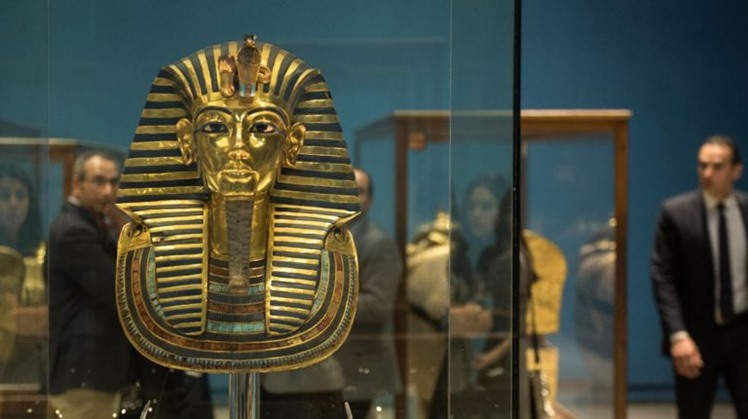 Thu, Mar. 21, 2019
CAIRO – 21 March 2019: Egyptian Minister of Antiquities Khaled al-Anany arrives in Paris, the City of Light to launch the King Tutankhamun exhibition on his second stop after the Los Angeles exhibition at the USA. The excitement at the French capital for the exhibition is through the roof. The glamor and magic of the treasures of the Golden Pharaoh and his exhibition made the French media eager to learn all about it, to the point that they couldn't wait for the press conference that will announce the opening of the exhibition on Thursday after noon. French journalists, media correspondents and the most prominent French and international channels and news agencies French rushed to hold interviews with Dr. Khaled Al-Anani to hear all about the exhibition which is considered the biggest cultural event in France for the coming days.

The Minister of Antiquities met with more than 15 radio stations, television channels, leading French and international newspapers and news agencies during the first hours of his arrival in Paris on Wednesday and until this morning.

The exhibition is part of the celebrations marking the centennial anniversary of the 20th century's most important discovery of the tomb of King Tutankhamun, which was made in 1922 by British archaeologist Howard Carter on the Western Bank of Luxor.

Anany is due to officially mark the start of the exhibition in Paris on Thursday under the title "Tutankhamun, Pharaoh's Treasures". The exhibition will continue until mid-September.

The French media didn't only wonder about the young king, his life, his treasures, his exhibition and the publicity he received in Paris (The streets, main squares, buildings and metro stations in Paris were decorated with huge banners bearing the face of The Golden King and some of his treasures) but they also were curious to learn all about the most recent archaeological discoveries carried out by the Egyptian Ministry of Antiquities, the cooperation between Egypt and France in the archaeological field, President Emmanuel Macaron's last visit to Cairo…

Furthermore the French media and press wondered about the restoration projects carried out by the Ministry, including the renovation project of Baron Imban Palace, and the development of services in archaeological sites such as the project of the renovation of the Temple of Phila in Aswan, and of course the Egyptian Grand Museum, which will open in 2020.

The most prominent of these newspapers and channels are Le Figaro, Le Monde, Le Parisien, France Info, France 24, RFI and France TF1, Europr's most famous channel, Jeune Afrique, AFP, US News Agency, Associated Press, ARD, and others.

The exhibition's organisers said more than 130,000 tickets have been sold so far and the number of tickets to be sold pre-opening-day is expected to reach 150,000.