In Memory of the Queen: The Royal Jewelry Museum remembers Queen Nazly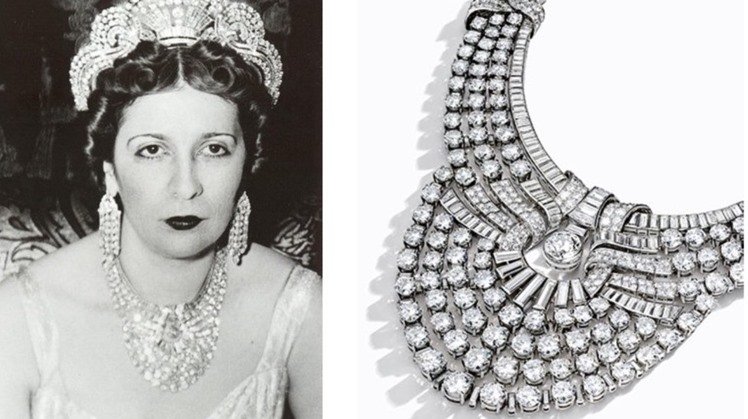 Thu, Apr. 2, 2020
On his page on social media, the Royal Jewelry Museum remembers Sultana Misr (1919-1922), Queen of Egypt (1922-1936) and Her Majesty the Queen Mother as the wife of King Fuad I - after his divorce from his first wife, Princess Shwikar, and his mother Crown Prince Farouk, until a royal decision was issued to deny her the title of "Queen Mother" in the year 1950, she is Queen Nazly.

Queen Nazli was born on June 15, 1894 in Alexandria in the palace of her father, Abd al-Rahim Pasha Sabri in the San Stefano area. Her great-grandfather to her mother, Tawfiq Khatoon, was Suleiman Pasha, a French colonel who came to Egypt with the French campaign and refused to leave, converted to Islam and founded the army of Muhammad Ali Pasha.

 Her father, Abdel-Rahim Pasha Sabri, was the Minister of Agriculture in Egypt, as he was one of the pioneers who traveled to study in Europe to return with different ideas from those that were widespread in the Egyptian society. Therefore, he raised his sons with Western education, established his daughters Nazli and honest on European traditions, and sent them to Paris to study and learn the origins High-end life there for two years, which is unusual for girls at the time. Nazle was a love of reading Western literature with a charming personality that differs from all the daughters of her generation

Queen Nazli always used to be the focus of everyone's attention. Mustafa Amin said about her: "She is tall, graceful, and her skin is white as milk, her long black hair falls to the back, her eyes are black and laughing, and her face was reddish in the color of the spring rose."

Rashad Kamel also mentioned to us in his book (Queen Nazli Gram and Vengeance) that Nazli grew up in the house of the nation, the house of the leader Saad Pasha Zaghloul, where her mother was Tawfiq Hanim, a close friend of Zafia Zaghloul, and the friendship between their two husbands, Abd al-Rahim Pasha Sabri and Saad Pasha Zaghloul, was combined. A permanent guest in the house of Saad Zaghloul, who sits the senior men of Egypt and knows them closely. However, the situation changed after the death of her mother, Tawfiq Hanem, in 1915, after Safiya Zaghloul recommended to Nazli, saying: "I recommend you come down ... consider her as your daughter."
 
Regarding her first meeting with King Fouad, there is a narration that says that King Fouad I, when he went to inaugurate the Egyptian Opera House, saw a girl whose breath was taken, and when he asked about it, Kabir El-Yawran told him that she was the daughter of Abdel-Rahim Pasha Sabri, and he fell in love with her even though she was 20 years younger than him. In another account of the writer, Mostafa Amin, it was Lady Graham, wife of the English Chancellor of the Ministry of the Interior who was working with the father of Nazli, who nominated her to Sultan Fouad I and when he asked to see her she invited her to drink tea with her two brothers until the king saw her closely, so he saw her from behind a curtain and admired her and decided to marry her.

Nazli married Sultan Fouad on May 24, 1919 and the marriage took place very quickly and without a royal marriage ceremony in a simple ceremony in the candle lights, and her life after marriage was strictly controlled and far from communicating with the public or carrying out any social activities, as King Fouad was very jealous over her He hides her inside the palace walls, and then the rumors came out saying that he was torturing her.

Nazli gave birth to King Fouad and his son Farouk on 11/2/1920 and fired 21 bullets to celebrate his birthday. On that day, state officials were granted leave and prisoners were pardoned to celebrate his birthday. Nazli subsequently gave birth to princesses Fawzia, Faiza, Fifa and Fethiye.

The mother of the mother was always far from her children and did not have close connections with them because of the royal tasks that require the children to spend their time with babysitters in the classes of languages, music and etiquette, so she saw them at specific times.

King Fouad I died in 1936, and her time made Nazli feel free for the first time in her life. After she lived for many years in her royal prison. Nazli played a great role in her son Farouk's assumption of the throne after the death of his father, as it was not then that he was of the legal age to be able to assume the duties of government. Whereas, a trusteeship committee appointed by him headed by Prince Muhammad Ali Tawfiq - whom he always believed was worthy of the rule of Egypt - appointed the membership of Muhammad Tawfiq Naseem Pasha, former Prime Minister of Egypt and Sheikh Al-Azhar Grand Imam Sheikh Maraghi. Where she issued a fatwa from Sheikh Al-Maraghi to receive Faruq al-Hakam, who is 17 years of age and 18 years of Hijri, according to the constitution that provides for the calculation of the Hijri calendar, and it is said that Ahmed Pasha Hassanein played a major role in this. And the first decision of King Farouk after assuming power was to allocate the title of Her Majesty the Queen Mother to a lifelong descendant, a title that gives her the freedom to act in relation to royal ceremonies, allocations and the annual share of jewelry.

A close relationship arose between Queen Nazli and Ahmed Pasha Hassanein, which lasted for a period of 9 years, which ended in his death in a car crash on the Nile Palace Bridge in 1946. Nazli then decided to leave Egypt, so she collected the money she had in full secrecy, and King Farouk allowed her to travel to France under the pretext of treating the kidney disease she was suffering from, which ended in her eradication of the Yemeni College. She was accompanied by her two daughters, Fatiha and Fathiya, and a public relations officer from the Egyptian Foreign Ministry named Riad Ghali.

Noise in Egypt was caused by Princess Fathia's marriage to Riad Ghaly with the blessing of her mother, Queen Nazli. King Farouk issued a decision to deny her the title of "Queen Mother" in the court session in 1950, and she was quarantined for negligence.
 

After that, Nazli purchased two houses in Beverly Hills and Hawaii, USA, traveled to live there, changed her religion, and made a public power of attorney for Riyadh Ghali to run her business in 1976, which eventually forced her to declare bankruptcy. After her daughter, Fathia, was killed by her husband, Riad Ghaly, Nazli lived a very difficult life in her late days, and she died in 1978 at the age of 80 years and was buried in a cemetery to the public in America.

 
The Royal Jewelry Museum in Alexandria is displaying a collection of its rare holdings on display at Hall A.