The mysteries of Tutankhamun, pyramids and mummies are revealed in the book "Secrets of Archeology"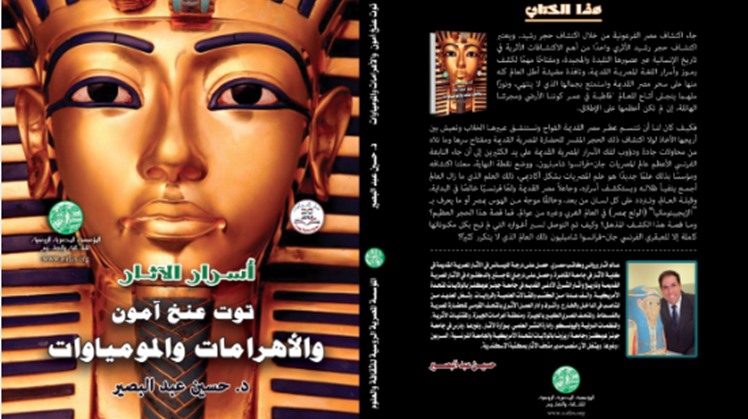 Wed, Jan. 8, 2020
The Egyptian Russian Foundation for Culture and Science publishes a book entitled "Secrets of Archeology: Tutankhamun, Pyramids and Mummies" by Dr. Hussein Abdel-Basir, director of the Museum of Archeology of the Library of Alexandria, director of the Museum of Antiquities and supervisor of the Dr. Zahi Hawass Center for Egyptology at the Library of Alexandria. This is in preparation for participation in the Cairo International Book Fair, which is scheduled to start on January 22, 2020.

Dr. Hussein El Shafei, head of the Egyptian-Russian Foundation for Culture and Science, says: "This book comes at a very important time to answer many of the issues that attempt to challenge the great ancient Egyptian civilization, and also answers many important questions, as well as explains the magic, beauty and secrets of the civilization and treasures of Egypt. The Pharaohs who enchanted and still enchant the whole world, especially the secrets of the golden pharaoh Tutankhamun, the great Egyptian pyramids and the charming Egyptian mummies.

The author of the book, Dr. Abdel-Basir says: "The discovery of Pharaonic Egypt came through the discovery of the Rosetta Stone. The discovery of the ancient Rosetta Stone is one of the most important archaeological discoveries in the history of humanity through its glorious and glorious ages, and an important key to uncover the symbols and secrets of the ancient Egyptian language, and a bright window that overlooks the whole world Including them on the charm of ancient Egypt and enjoy its endless beauty, and an inspiring light that manifests the civilized world, unveiling one of the greatest human civilizations throughout the age of our earthly universe and our colossal galaxy, if not the greatest at all, and by discovering the Rosetta Stone and deciphering the Egyptian language In ancient times, it became clear to the whole world that Egypt is the cradle and the land of civilizations. In Egypt history and human civilization were born thousands of years ago, wherever you go you will inevitably find some part of the history of Egypt as well as the history of the world, so we will not be wrong if we say that Egypt and history are identical twins in everything The story of the discovery of Pharaonic Egypt and the deciphering of the secrets of the Pharaohs civilization was the moment when humanity learned its ancient glory when knowledge prevailed and human civilization manifested itself in the most wonderful pictures represented in ancient Egypt, the lady of civilizations and the teacher of humanity and the light of history and the locomotive of civilization, that the magic of Pharaonic Egypt still brings us Our eyes and fascinates our minds Yoke of our way; Fethiye love and appreciation of Egypt's ancient and timeless civilization and the ancient Egyptians, the first civilization owners learned the world was truly the dawn of human conscience in the whole world. "