Sisi hails Egypt's relations with Hungary amid global challenges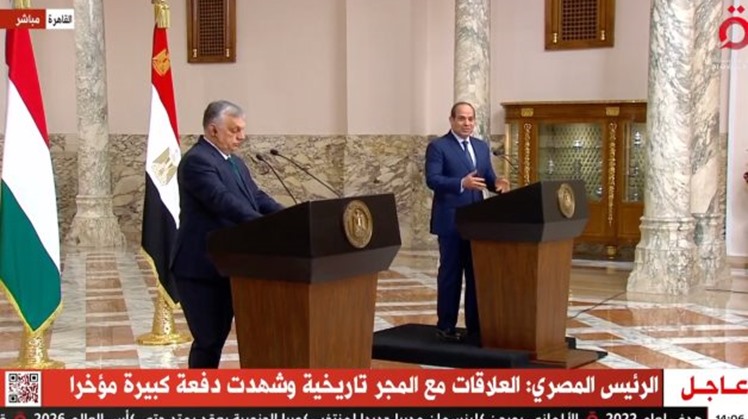 Wed, Mar. 1, 2023
CAIRO - 28 February 2023: Egypt's President Abdel Fatah al-Sisi praised on Tuesday the long bilateral relations between Egypt and Hungary as "role model" in light of the current circumstances and global challenges.

This came during a press conference with Hungarian Prime Minister Viktor Orban at the Ittihadiya Palace in Cairo.

"Allow me to welcome you, a dear friend and brother, and to record that we share 95 years of bilateral relations, but our ties witnessed a very big boost under your reign," President Sisi told Hungarian PM.

Both leaders held meetings on Tuesday after the Hungarian PM arrived in Cairo. President Sisi said that during the talks, they both agreed on furthering trade exchange.

President Sisi also said: "We have a voice in the European Union, and this voice is Hungary, as it has been a strong supporter to Egypt, and it has always clarified and explained to the European Union, different situations occurring in the Middle East, as well as in Egypt."

"Successful relations between Egypt and Hungary are due to mutual respect, and political consensus regarding many international issues," Sisi added.

President Sisi also thanked the Hungarian PM for his country's decision to increase the number of graduate and post-graduate scholarships to Egyptian students to 200 scholarships annually as of the academic year 2023-2024.

The talks also tackled the importance of Hungarian investments in Egypt, and how Hungarian investors will benefit, particularly from tapping into the Suez Canal economic zone.

"We stressed the importance of strengthening cooperation in the field of agriculture, water management and irrigation, transport, increasing number of tourists between both countries and localization of the railway carriage industry," Sisi added.

Both countries enjoy mutual trade movement, where top Egyptian exports to Hungary are: cotton, vegetables, fruits, Cement, Fertilizers, carpet, while the top imports from Hungary are: electronic devices, glass, aluminum, fuel, rubber, organic chemicals.


In the below lines, some of the highlights:


- In 2015, President Sisi visited Hungary and met with Prime Ministry

- In 2015, Egypt's Sisi receives honorary PhD from Hungarian university

- In April 2015, Egypt, Hungary signed agreement on operating flights between Hurghada and Hungary

- In 2017, Egypt's Sisi attended Visegrad State Gathering in Hungary

- In 2017, Egypt's Sisi received Hungarian Parliament Speaker and delegation

- In 2018, Egypt, Hungary signed a contract to supply and manufacture 1,300 new passenger railway vehicles

- In November 2022, Egypt's Sisi received with Speaker of the National Assembly of Hungary László Kövér, asserting keenest on boosting partnership in parliamentary domain.