Egypt looks forward to boosting cooperation with French companies: Sisi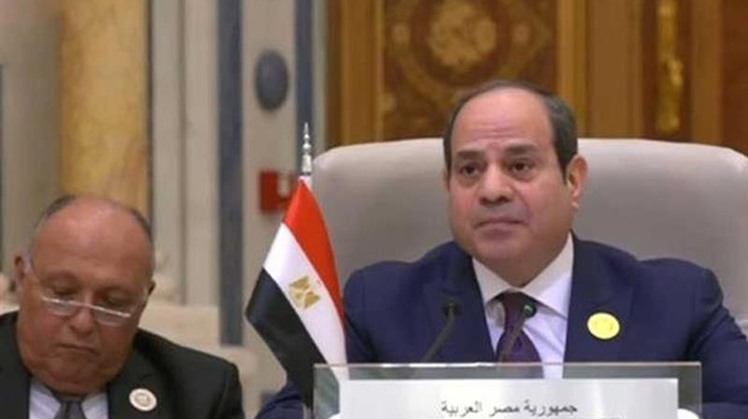 Sun, Dec. 11, 2022
President Abdel-Fattah El-Sisi said on Sunday that Egypt looks forward to continuing and boosting cooperation with French companies operating in the country, especially the French giant technology group Thales.

Sisi's remarks came during a meeting in Cairo with Patrice Caine, Chairman and Chief Executive Officer of Thales, a global technology leader that invests in digital and artificial intelligence, connectivity, cybersecurity and quantum technology, with thousands of employees in five continents.

According to a statement by Presidential Spokesman Bassam Rady, the president hailed the "distinguished cooperation" between Egypt and France, laying emphasis on the activities of French companies operating in Egypt and their contribution to the development process.

El-Sisi discussed with Caine the prospects of cooperation between the French company, the Arab International Optronics, and Benha Electronics Company in the fields of optics, electronics and cyber security, added the statement.

As part of the desired cooperation with Thales, the president directed to train and qualify young engineers in the areas of optics and electronics.

During the meeting, Thales chairman said the French group is keen to promote cooperation with Egypt on localizing the optics industry, according to the statement.

In June, Thales and its partners, Orascom Construction and Colas Rail, were awarded a contract to design, supply, deploy, and maintain for two years the first phase of Metro Line 4.

The contract includes providing the advanced and integrated digital solutions for telecommunications, centralised control, and ticketing system of phase one.

As many as 168 French companies are operating in Egypt, employing tens of thousands of workers.

France has €4.6 billion in investments in infrastructure projects in Egypt, including the provision of €800 million in government loans, €1 billion from the French Development Agency, and €2 billion in bank loans guaranteed by the French state.

Trade between Egypt and France amounted to $1.83 billion in 2021.

In May, Egypt and France signed an agreement to manufacture 55 air-conditioned trains for Cairo Metro Line One and provide maintenance work for them for eight years. France's Alstom Co. will implement the project, which will cost €776.9 million.

In June 2021, Egypt and France also signed €1.7 billion worth of deals to fund projects in the fields of transport, housing, electricity, education and wholesale markets.

Egypt and France are members of East Mediterranean Gas Forum (EMGF) – a regional block that seeks to unlock the full potential of the Eastern Mediterranean gas basin.