Egypt, Qatar announce committee headed by FMs to strengthen relations in all fields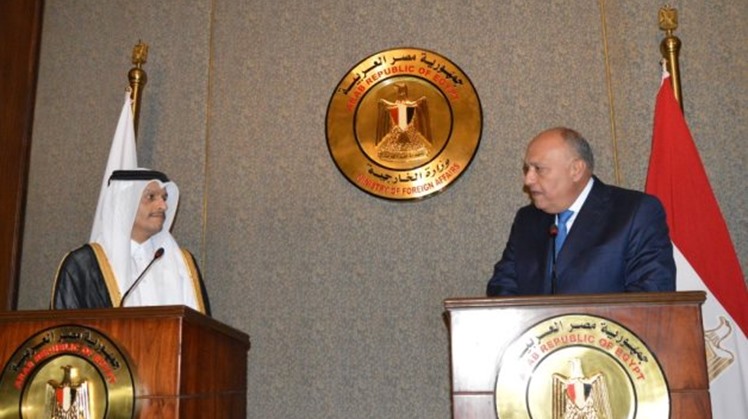 Mon, Mar. 28, 2022
CAIRO – 28 March 2022: Egypt's Foreign Minister Sameh Shoukry held, on Monday, a bilateral meeting with his Qatari counterpart Sheikh Mohammed bin Abdulrahman Al Thani, declaring forming a joint committee headed by them to resume cooperation and consultation.

They discussed bilateral relations between the two countries and the importance of enhancing cooperation and coordination in various fields, said Egyptian Egyptian Foreign Ministry Spokesperson Ahmed Hafez in a statement.

The two sides praised the work of the members of the joint bilateral committees that were formed after the Al-Ula statement, Hafez added.

The bilateral committees signed a number of agreements and memoranda of understanding after consensus was reached on the topics on their agendas to serve the interests of the two countries and peoples, Hafez said.

After praising the return of relations to their normal state. The two sides announced to form of a joint committee headed by the foreign ministers of the two countries with the aim of continuous consultation and strengthening cooperation and coordination in all fields.

In a press conference held between both Ministers on Monday, Qatari Foreign Minister Sheikh Mohammed bin Abdulrahman Al Thani said that he is looking forward to working with Sameh Shouky within the framework of the newly announced joint committee regarding all topics of mutual interest.

Al Thani wished the Egyptian national football team better luck in his match against Senegal in the second leg of the 2022 Africa World Cup qualifiers due on Tuesday. He added that his country welcomes Egyptian football fans to attend the World Cup matches in Doha this year.

Commenting on the Negev-held summit between Israeli, US, and Arab Foreign Ministers of Egypt, Bahrain, UAE, Morocco, Sameh Shoukry said the summit tackled topics of mutual interests such as the Iranian nuclear file, the latest developments in Ukraine, and the global economic situations and the economic pressures that caused by the coronavirus and deepened by the development Ukraine.

He added that participation in the Negev summit does not aim to form an alliance in the region.