Egypt, China's FMs stress profound relations between the countries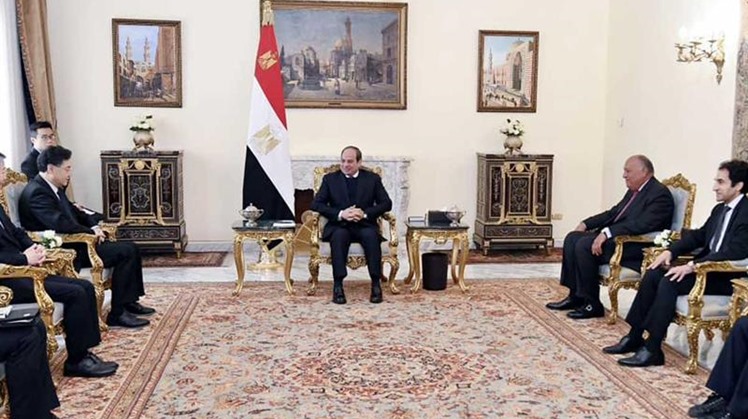 Mon, Jan. 16, 2023
CAIRO- 16 January 2023: Egyptian Foreign Minister Sameh Shoukry and his Chinese counterpart Qin Gang stressed on Sunday the "profound relations" between the two countries in all areas, emphasizing the mutual political will to strengthen cooperation during a joint press conference in Cairo.

Earlier in the day, Egypt's President Abdel-Fattah El-Sisi received the top Chinese diplomat, who is on his first visit to Egypt since assuming his post. El-Sisi and the Chinese FM discussed bilateral relations in the political, economic and cultural fields, according to Ahram Online.

The visit is part of an African tour by the Chinese minister.

The Chinese FM affirmed his country's determination to support Egypt's efforts in development, highlighting the fruitful cooperation in the Belt and Road initiative.

Egyptian-Chinese ties have witnessed noticeable growth in infrastructure, energy, trade, and transport in the past several years. Cooperation includes electricity, petroleum, natural gas, railways, highways, ports, mineral industries, construction materials, chemical industries, lighting equipment, textile, and home appliances.

El-Sisi visited China seven times between 2014 and 2022 to promote the Comprehensive Strategic Partnership between the two countries and Chinese investments in Egypt.

Shoukry said that Egypt looks forward to increasing Chinese tourism to the country. Egypt has been exerting efforts to help the sector recover from the coronavirus pandemic and the war between Ukraine and Russia, who have been the leading exporters of tourists to Egypt in recent years.

Shoukry also said that China seeks stability in the region and expressed Egypt's aspiration for China's support within the framework of its membership in the Group of 77 and China (G77 + China).

According to an IMF report issued last Tuesday, Egypt will secure a $1 billion loan from the China Development Bank during FY2022/23 to shore up its financial gap.

Egypt is feeling the pinch of the war in Ukraine with rising inflation and a shortage of the foreign exchange necessary to import essential goods and commodities. Last week the government announced a package of austerity measures which cut the 2022-23 budget in an attempt to conserve foreign exchange.

State institutions and national economic authorities are now obliged to seek finance ministry approval and coordinate with the Central Bank of Egypt ahead of spending on any project or activity requiring foreign currency.