Egypt, Iraq, Jordan agree on accelerating implementation of joint projects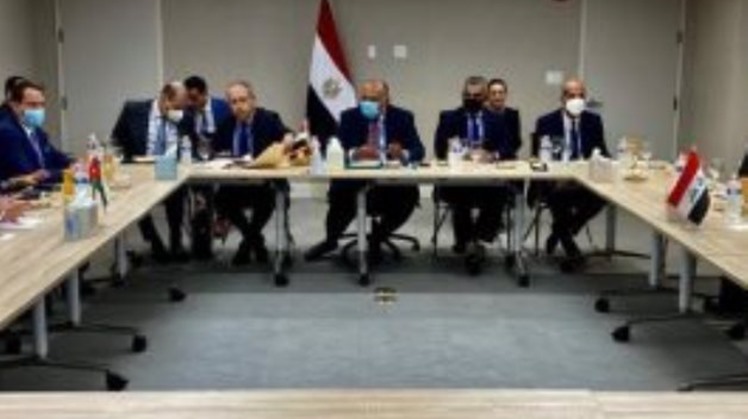 Mon, Sep. 27, 2021
CAIRO - 27 September 2020: The foreign ministers of Iraq, Egypt and Jordan agreed on accelerating the implementation of joint projects in the fields of economy, energy and electricity, stressing the necessity of identifying the follow-up bodies to serve their interests at all levels.


In a statement, the Iraqi Ministry of Foreign Affairs said that Foreign Minister Fuad Hussein participated in the meeting of the tripartite coordination mechanism with Egyptian and Jordanian foreign ministers Sameh Shoukry and Ayman Safadi respectively on the sidelines of the 76th session of the UN General Assembly in New York.

The meeting aimed to push forward cooperation between the three countries and their consultation on issues of common interest.

The ministers also discussed the latest regional and international developments.

They also agreed to hold another meeting in Amman to follow up on the implementation of power linkage projects.

Shoukry's visit to New York on the sidelines of the UNGA has included his participation in a number of activities with the aim of presenting Egypt's vision and stances on the current issues and situations in the region.

Egypt's top diplomat also met on the sideline of his participation with high-level officials at the UN.

He also held bilateral meetings during his visit with a large number of foreign ministers participating in the UNGA session, in order to discuss aspects of bilateral cooperation with those countries.

The ministers held consultations on the most prominent regional and international issues and ways of coordination regarding common challenges.

Shoukry's meetings aim to explain the achievements made at the national level in various aspects of political, economic and social work and how to build on them in order to promote common interests with friendly countries and international partners.