Egypt's PM expresses hope to receive a delegation of US officials in Cairo to closely review suggested fields of cooperation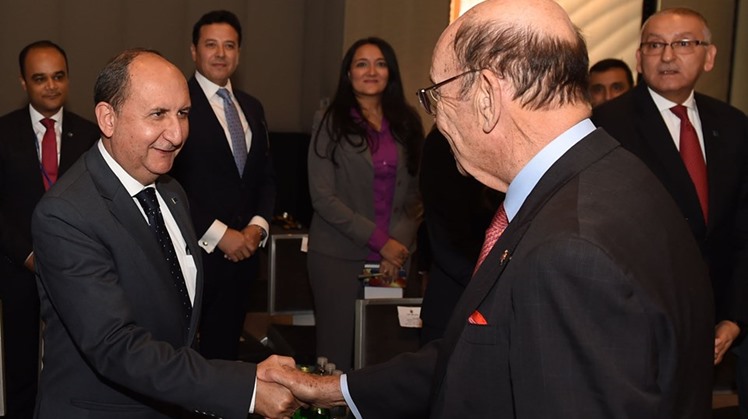 Thu, Oct. 17, 2019
CAIRO - 17 October 2019: Egypt's Prime Minister Mostafa Madbouli met with Wilbur Ross, US Secretary of Commerce, during his visit to Washington, where he expressed his hope to receive a delegation of US officials in Cairo, to closely review the suggested fields of cooperation between the two countries

During the meeting, Madbouli asserted the Cabinet's readiness to study offering possible investment incentives with the aim of attracting the US companies, according to official statements.

The meeting was attended by Egyptian ministers of investment and international cooperation, finance, trade and industry, as well as Egypt's ambassador to Washington.

During the meeting, the two sides reviewed aspects of trade relations between Egypt and the US, and areas of cooperation that can be strengthened during the coming period.

Ross was briefed by the finance minister on the amendments to the customs law, and the government's efforts to automate customs services to facilitate and speed up relevant procedures.

He also listened to an explanation from the Minister of trade on the proposed cooperation in the coming period, especially in the field of automotive industry and the transfer of US technology to Egypt.

The volume of trade exchange between Egypt and the US increased within the first seven months of 2019 to reach $5.35 billion in comparison to $4.47 billion in the same period in 2018, state's news agency MENA cited Egyptian Commercial Service (ECS) as saying in September.

The deficit between Egypt and the US decreased by 8.7 percent within the same period.

The total value of Egypt exports to the US increased by 37.5 percent from January to July in 2019 reaching $1.9 billion, according to the ECS.

The Egyptian petroleum exports to the US increased to $662.9 million from January to July, the statement said.

The Egyptian imports from the US reached $3.46 billion in 2019 in comparison to $3.09 billion in the same period in 2018 with an increase of 11.8 percent, the statement added.