Egypt's Sisi promises that US dollar's related problems will end in 2 months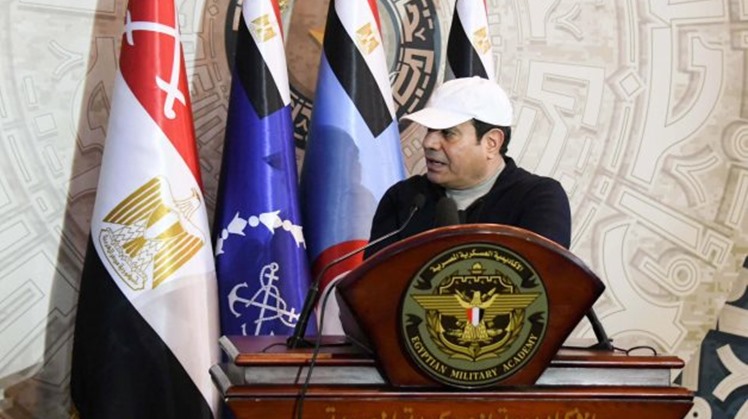 Thu, Jan. 19, 2023
CAIRO – 19 January 2023: President Abdel Fattah al Sisi said that Egypt faced a problem regarding the U.S. dollar during the past 3 months, however, "we promised that within two months we will end."

"We promised that we will end the ports' stuck goods within 2 months, and we did end it partly, and I'm saying we don't have any problem with the U.S. dollar" Sisi said speaking to the Military Academy students, on Thursday.

Sisi added that the armed forces are playing a very important role in this 'difficult period' to help people facing harsh economic conditions.

"They [the armed forces] are distributing nearly 3 million cartons until the holy month of Ramadan to ease the economic situation to citizens as much as possible." Sisi said

He noted that the situation is difficult, but "we are in control of it, and we will be able to overcome all challenges."

He added: "Every difficult situation is kind of test to the state's abilities, and we should see it as an opportunity to learn about our endurance capabilities."

"What we have achieved during the past 10 years is something we should all be proud of." Sisi stressed.

In his speech, Sisi that the stronger the armed forces and the Egyptian state institutions are, the more they will be able to face the various challenges

"I want to reassure you all regarding our internal affairs, we went through very difficult situations; however, we didn't flight or go through any kind of war. We were very keen to be wise regarding our actions as much as we can." Sisi added.

President Abdel Fattah El-Sisi made an inspection tour of the Military Academy, where he was accompanied by Commander-in-Chief of the Armed Forces and Minister of Defense and Military Production Mohamed Zaki, Chief of Staff of the Armed Forces Osama Askar, and senior commanders of the Armed Forces, said Presidential Spokesperson Bassam Rady in a statement on Thursday.

The president and the officials participated in a number of activities and exercises included in the cadets' daily fitness routine. The president also witnessed the military training exercises that are conducted in accordance with the latest techniques. These exercises showed the new cadets' self-confidence and high level of discipline.

Furthermore, the president inspected a number of training areas, including the swimming pool, fitness areas, CrossFit arena, equestrian area, and the battlefield simulation field, in which he witnessed the cadets' shooting exercise.