US Secretary of Energy praises Egyptian efforts to strengthen energy sector in a meeting with President Sisi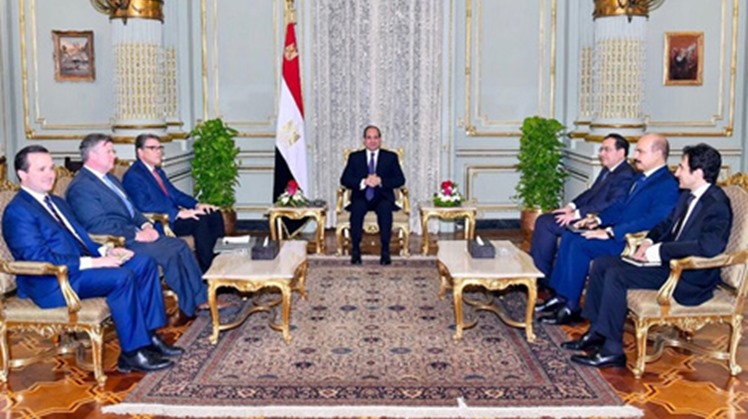 Fri, Jul. 26, 2019
CAIRO - 26 July 2019: Egypt's President Abdel Fattah al-Sisi held a meeting with US Secretary of Energy, Rick Perry, at Montazah Palace in Alexandria on Thursday, where the US official hailed the Egyptian efforts to strengthen the energy sector at both the regional and national levels.

The two parties discussed promoting US investments in the fields of exploring, discovering and refining petrochemicals in Egypt in order to benefit from the strategic location of the country and the infrastructure available in this regard, presidential spokesperson Bassam Rady said.

This meeting was held the sidelines of the second ministerial meeting of the Eastern Mediterranean Gas Forum (EMGF), which Egypt is hosting with the attendance of the petroleum and energy ministers of Egypt, Palestine, Greece and Cyprus.

Perry stated that Egypt's domestic energy sector has become one of the main factors for the growth of the Egyptian economy and it dynamically contributes to supporting the country's economic potential and achieving its different development plans.

Moreover, the US energy secretary said that the recent gas discoveries in the Mediterranean Sea, which have increased Egypt's production of conventional energy, are an important element in the future energy market.

"Such facts eventually contribute to supporting Egypt's goal to become a regional energy hub," Perry said.

On the other hand, Egypt's Sisi welcomed the American official in Egypt, asking him to convey his greetings to President Donald Trump.

"The forum will be considered a congregation aimed at achieving integration and economic gains for all its members whether they are producers, consumers or transit countries," Sisi said.

The president added that the forum will ensure energy security and secure its sources in the Eastern Mediterranean region, stressing its openness to other countries and international institutions.

During their meeting, Sisi also asserted that Egypt is keen on strengthening bilateral strategic relations with the United States in various horizons, including cooperation in the fields of energy and renewable energy.