Egypt's FM meets with US counterpart to review international, regional issues of mutual concern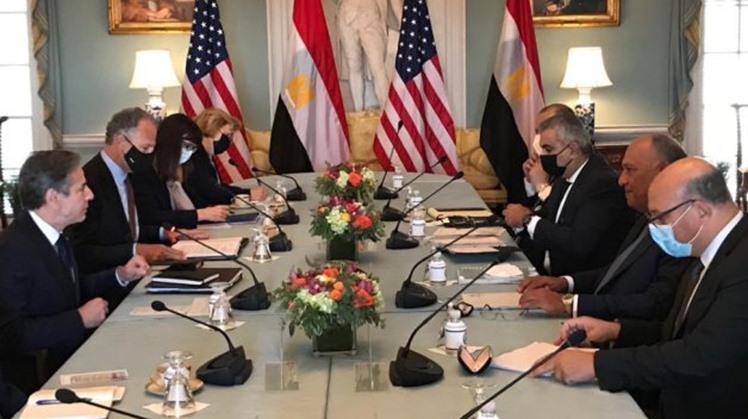 Mon, Nov. 8, 2021
CAIRO, 8 November 2021: Egypt's Foreign Minister Sameh Shoukry met with US Secretary of State Antony Blinken to review the strategic cooperation relations between Egypt and the US, in addition to international and regional issues of mutual concern, said Egyptian Foreign Ministry's Spokesman Ahmed Hafez.

The meeting tackled a number of international and regional files of common interest, atop of which is the situation in Libya. Shoukry highlighted the need to hold Libyan presidential and parliamentary elections on their scheduled time in December.

Shoukry headed for Washington D.C to participate in the US-Egypt Strategic Dialogue. During his visit, Shoukry met with Robert Malley, US Special Envoy for Iran, to exchange views regarding the situation in the Middle East, on Sunday. He also highlighted the importance of withdrawal of all foreign forces, mercenaries and foreign fighters from Libya.

Other files discussed include the Syrian file, the situation in Sudan, the latest developments of the controversial Grad Ethiopian Renaissance Dam, and the Palestinian-Israeli cause, Hafez said.

In September 2021, Shoukry met with US Secretary of State Antony Blinken to discuss bilateral relations as well as regional and international issues of mutual concern. The ministers met in New York on the sidelines of the 76th session of the United Nations General Assembly, a statement by the Egyptian Foreign Ministry said.

During this meeting, Shoukry and Blinken agreed on the importance to work on the good preparation of the next round of strategic dialogue between Egypt and the US in the near future.