USS Monterey first US Warship to visit Egypt's Berenice Naval Base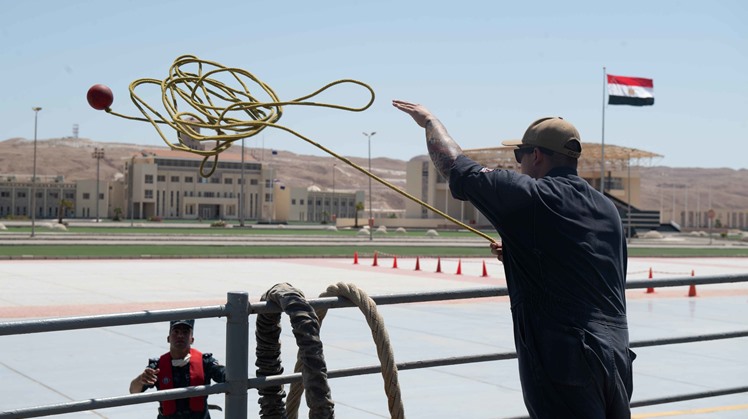 Mon, Aug. 16, 2021
CAIRO, 16 August 2021: The official twitter account of U.S. Navy posted photos, on August 13, of the visit of Guided-missile cruiser USS Monterey (CG 61) to Egypt's Berenice Naval Base, marking the first time a U.S. warship has pulled into the Red Sea base, which officially opened in January 2020.



Commander of the Egyptian Naval Force Ahmed Khaled, Commander of US Naval Forces Central Command Brad Cooper, and commanding officer of Berenice Naval Base Waleed Aly Atiaa were hosted on the US warship, according to a statement of the U.S. Embassy in Cairo.

The US Ambassador to Egypt Jonathan Cohen also accompanied the commanders who toured the ship.

Cohen said the ship's visit to the Egyptian Red Sea base reflects the strong maritime cooperation between Egypt and the US.

"Together we are combating smuggling, trafficking, and piracy, and ensuring safety at sea," Cohen added.

In April 2020, Egypt joined the US-led Combined Maritime Forces (CMF) to become its 34th member.

The CMF is an enduring multinational coalition formed in 2002 and committed to upholding the rules-based international order by countering illicit non-state actors, safeguarding freedom of navigation, and promoting security, stability, and prosperity.

According to the embassy, during the tour the group spoke with crew members and took part in a gift exchange with the ship's commanding officer Joseph Baggett.

"I am honoured that Monterey was able to conduct this historic first visit to the Berenice Naval Base," the statement quoted Baggett as saying.

In January 2020, Egypt's Berenice military base was inaugurated by President Abdel-Fattah El-Sisi with the aim of "securing the country's southern coasts, protecting economic investments and natural resources and facing security threats in the Red Sea".

The 155-acre base is home to land, air and naval forces, is also designed to secure global navigation extending from the Red Sea to the Suez Canal and associated economic areas, according to a presidential statement at the time.

It houses naval and air bases, a military hospital and a number of combat and administrative units as well as shooting and training fields for all kind of weapons. The base also includes an international airport, a seawater desalination plant and container storage yards.