Egypt's FM speaks with US secretary of State on boosting strategic partnership, promoting democracy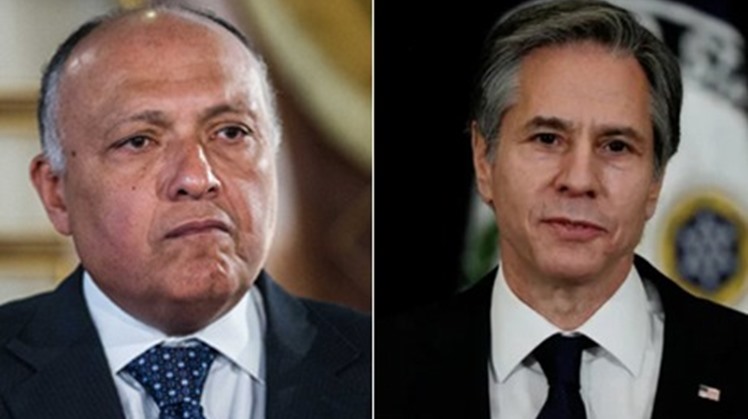 Wed, Feb. 24, 2021
CAIRO - 24 February 2020: Egypt's Foreign Minister Sameh Shoukry received, on Tuesday, a phone call from US Secretary of State Antony Blinken where they exchanged views on regional issues and ongoing counterterrorism cooperation.

Shoukry congratulated Blinken on assuming his post as the top US diplomat wishing him and the new US administration luck and success.

The two officials discussed the latest developments in Libya, Palestine as well as their counter terrorism efforts, a statement by the Egyptian Ministry of Foreign Affairs said.

The discussions between Shoukry and Blinken reflected the convergence of the views of both countries in several regional and international files.

The Egyptian foreign ministry added that Shoukry and Blinken had asserted on the historical partnership between Egypt and the United States which was based on mutual respect, common interest and developing relations whether political, economic or cultural. They also reiterated on the efforts of the two countries, in the field of human rights, in a way that would achieve their interests.

Egypt's FM and his US counterpart also agreed on continuing their coordination and consultation in the next period concerning all mutual-interest issues, according to the statement.

A separate statement by the US Department of State said: "The Secretary and the Foreign Minister highlighted the importance of the strong strategic partnership between the United States and Egypt, particularly in security and ongoing counterterrorism cooperation, and exchanged views on regional issues.

"The Secretary raised concerns over human rights, which he emphasised would be central to the US-Egypt bilateral relationship, and Egypt's potential procurement of Su-35 fighter aircraft from Russia," the statement added.

"Our shared security interests must align with respect for democracy and human rights, including the importance of a strong civil society." Blinken tweeted on his official Twitter account about the telephone call, adding that he was looking forward to strengthening the Egyptian-American historic partnership.



This is considered the first telephone call between the two officials since Antony Blinken was appointed as the secretary of state in late January.