Trump hails 'great job' by Egypt's President Sisi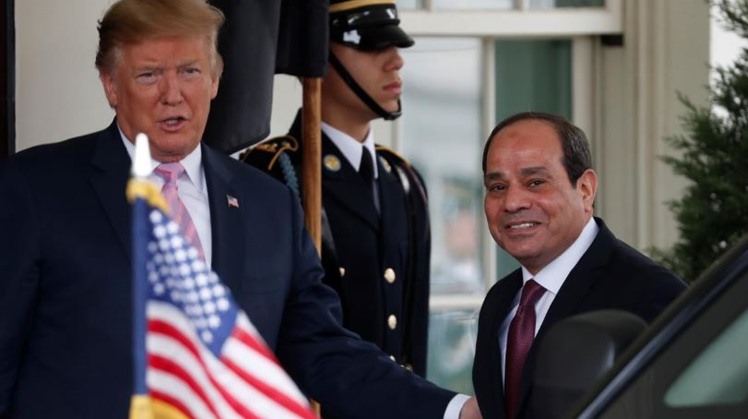 Tue, Apr. 9, 2019
CAIRO – 9 April 2019: US President Donald Trump praised on Tuesday the "great job" he said is being done by Egypt's President Abdel Fatah al-Sisi.

"We've never had a better relationship, Egypt and the United States, than we do right now,"Trump said, during a joint-press conference held shortly after Sisi's arrival at the White House.

The Egyptian president thanked his American counterpart, Donald Trump for the efforts done by the U.S. to enhance the U.S.-Egyptian relations.

The Egyptian president also said that his country is looking forward to strengthening cooperation with the US in all fields, including economically and militarily.

On his part, Trump affirmed that the two countries have developed their relations on many levels especially regarding confronting terrorism. "A lot of progress has been made in a lot of different ways in terms of terrorism and other things with Egypt."

Trump, with El-Sisi at his side, also told reporters that they had important things to discuss about military issues and trade.

Earlier, President Abdel Fatah al-Sisi arrived, at the White House to meet his American counterpart, Donald Trump.

Sisi arrived the U.S. on Monday night and met with the United States Secretary of State Mike Pompeo. Both sides reaffirmed the strength and importance of the U.S.-Egypt bilateral relationship.

According to Spokesperson for the U.S. Ministry of Forghen Affiears Morgan Ortagus, Pompeo thanked President Sisi for his leadership in advancing Egypt's and the region's security and stability, including through counterterrorism efforts and countering the Iranian regime's malign influence.

The visit comes upon Trump's invitation to discuss bilateral relations as well as regional and international issues of mutual concern, said presidential spokesperson Bassam Radi.

The White House announced in a statement that the meeting comes in light of the continuing cooperation between both countries on economic, military and counter-terrorism levels.