US cornerstone of maintaining Middle East security and stability: Sisi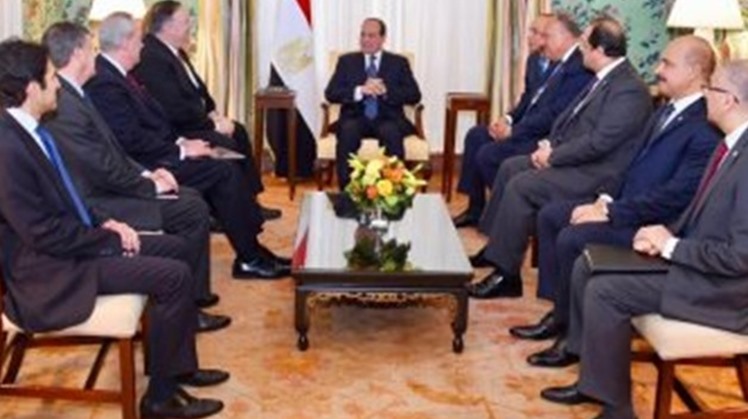 Tue, Apr. 9, 2019

CAIRO - 9 April 2019: In his first official talks after arriving to Washington, President Abdel Fatah al-Sisi asserted Tuesday Egypt's firm stance on the need to reach a just and comprehensive solution that guarantees the rights of the Palestinian people, including the establishment of their independent state.

This came during his meeting with US Secretary of State Mike Pompeo at his residence in Blair House in Washington, according to a statement issued by presidential spokesman Bassam Radi.

The two parts discussed the current Palestinian conditions and means of reviving the long stymied Middle East peace process, according to the statement.

Pompeo expressed appreciation of the Egyptian efforts to contain the explosive situation in the Gaza Strip and prevent it from further escalation, asserting that Washington is looking to boost cooperation with Egypt to resolve challenges in the Middle East.

The US top diplomat also hailed and voiced his country's support for President Sisi's efforts to fight terrorism and realize comprehensive and sustainable development in Egypt and the whole region.

On his part, Sisi stressed Egypt's willing on consolidating and deepening its longstanding strategic partnership with the US which he described as a cornerstone of maintaining Middle East security and stability.

Moreover, Sisi said that he is looking forward to strengthening coordination and consultation with the US during the coming period on different political and security files of mutual concern, the statement reported.

Pompeo welcomed Sisi's visit, stressing confidence that his talks with US President Donald Trump will give a positive and constructive push to bilateral relations, especially in light of the US administration's commitment to shoring up cooperation with Egypt in various areas.

Pompeo also revealed that the meeting tackled a number of regional files including the latest developments in Libya, Syria and Yemen, where Sisi affirmed that only the political solution can preserve these countries'territorial unity and maintain their national institutions.

The president called for helping the conflict-hit Arab countries in their fight against terrorist groups to prevent them from moving to other parts of the region, Pompeo added.

Pompeo praised all efforts being exerted by Egypt to resolve regional crises and expressed Washington's keenness to intensify coordination with Cairo over Middle East issues given Egypt's important political weight in the region, according to the presidency statement.

The Egyptian president is set to meet with US President Donald Trump in the White House on Tuesday.