Mon, Jun. 29, 2020
CAIRO - 28 June 2020: A group of members of the Egyptian community in New York and New Jersey gathered outside the United Nations headquarters in New York City on Saturday to celebrate the seventh anniversary of the June 30 revolution.
The community members announced their support to President Abdel Fatah al-Sisi's foreign policy in dealing with a number of regional and international issues, particularly the Libyan crisis and the file of the controversial Grand Ethiopian Renaissance Dam (GERD).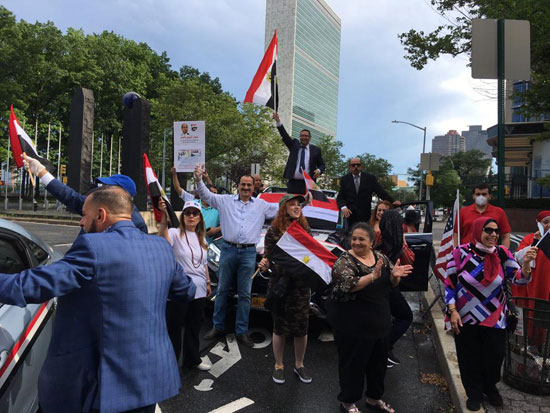 In 2019, Egyptians on social media celebrated the removal of a one-year-old ruling of the outlawed organization of the Muslim Brotherhood.
Egyptians on Twitter have posted several photos and videos of their celebrations of the removal of late ousted President Mohamed Morsi's regime by the military on July 3, 2013 following million-man demonstrations nationwide on June 30, using the hashtags of #تحيا_مصر #30يونيو.
The date June 30, 2013, was engraved into Egypt's history as the date that Egypt freed itself from the shackles of the outlawed terrorist organization that sought to destabilize the country, pushing it to the brinks of failure.