We work with Egypt to enhance terrorism combat capabilities: CENTCOM Commander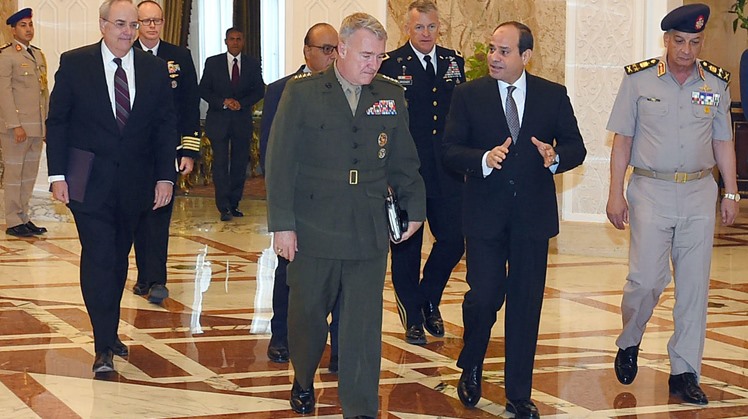 Mon, Feb. 10, 2020
CAIRO - 10 February 2020: Commander of the United States Central Command (CENTCOM) Kenneth McKenzie Jr. told Extra News Egypt that the command works closely with Egypt to enhance terrorism combat capabilities.

"We share views with high-ranking commanders in Egypt...I have been looking forward to visiting Egypt," McKenzie said adding, "We keep communication channels on the military level in spite of their presence on the political and diplomatic levels, as military ties with Egypt are placed highlight for its top strategic location."

The United States Central Command chief Kenneth McKenzie affirmed keenness to back partnership relations and coordination between the Armed Forces of Egypt and the US, as he met with Egyptian Defense Minister Mohamed Zaki on January 27 in Cairo, a statement by the Egyptian Armed Forces said.

Zaki; Chief of Staff of the Egyptian Armed Forces Mohamed Farid; and the US official met in the Egyptian capital as McKenzie and a US delegation have made a visit to Egypt, which is set to last for several days, the statement published by Egyptian army's spokesman Tamer al-Rifaei read.

During the meeting, they reviewed the regional and international efforts, as well as the counter-terrorism efforts made by the Egyptian Armed forces, aiming at eliminating terrorism and achieving security and stability in Egypt and the Middle East. They also discussed developments witnessed by the region.

For his part, Zaki, who is also the general commander of the Armed Forces, stressed the need for military cooperation and coordination between Egypt and the US, to face the joint challenges and establish security in the region.