Egypt's Sisi meets German Chancellor on the sidelines of G7 summit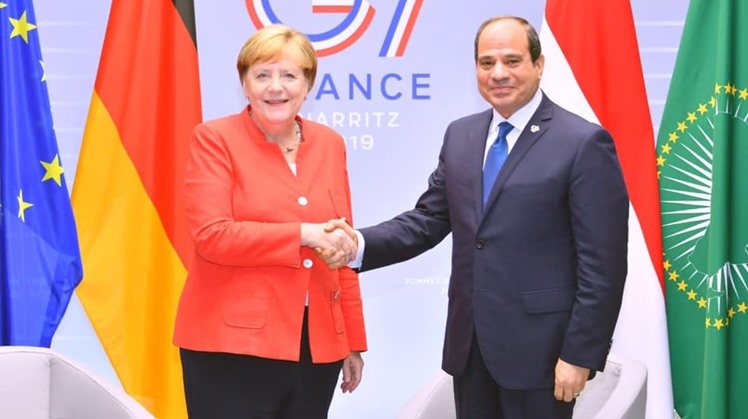 Mon, Aug. 26, 2019
CAIRO - 26 August 2019: Egypt's President Abdel Fattah al-Sisi met on Sunday with German Chancellor Angela Merkel, on the sidelines of the G7 summit held in France.

Sisi praised Egyptian-German ties in all fields, Presidential Spokesman Bassam Rady said.

Moreover, the Egyptian president expressed Egypt's appreciation for the ongoing positive progress in Egyptian-German relations and for the mutual commitment to further advancing ties across all areas for the benefit of the two countries and their peoples.

The President emphasized Egypt's commitment to fostering closer cooperation and to enhancing political consultations between the two countries on various regional and international issues, in light of Egypt's current chairmanship of the African Union and Germany's membership of the Security Council.

German Chancellor Merkel lauded the solid relations and bonds that Egypt and Germany share and appreciated the great momentum that the two countries' relations have gained recently, notably in economic and trade areas.

On her part, Chancellor Merkel reiterated that Egypt is considered one of Germany's key partners in the Middle East.

The German Chancellor confirmed her country's keenness on holding intensive coordination with Egypt on regional and international political dossiers, underscoring Egypt's position as a cornerstone for security and stability in the Middle East, Africa and the Mediterranean region.

The meeting discussed ways to strengthen frameworks of trilateral cooperation between Egypt and Germany in Africa, in light of Egypt's current chairmanship of the African Union and the G20 Compact with Africa (CwA), which was initiated under the German G20 Presidency in 2017, during their annual meetings in Berlin.

The talks also touched on a multitude of regional and international issues and dossiers including ways to enhance counter-terrorism efforts and combat illegal migration. The discussions also focused on political developments in a number of countries in the region, notably the Libyan issue. President El Sisi and Chancellor Merkel exchanged views on ways to achieve a peaceful settlement and to fight terrorism in Libya.