Sisi delivers speech at 2019 G7 Summit in France's Biarritz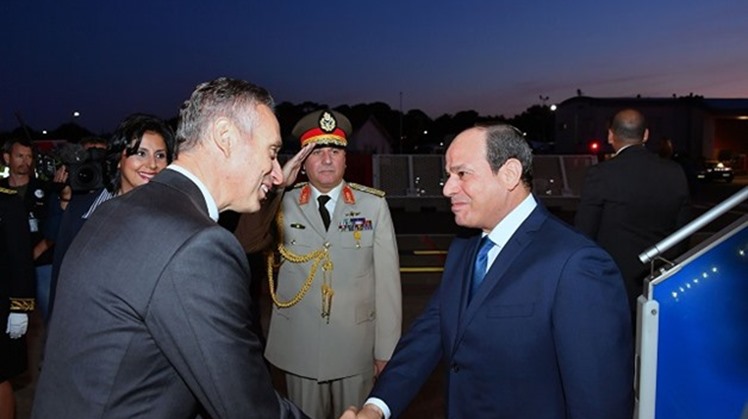 Sat, Aug. 24, 2019
CAIRO – 24 August 2019: Being the head of the African Union for this year, President Abdel Fatah al-Sisi will give a speech at the France-chaired 2019 G7 Summit that kicks off on Saturday at France's Biarritz resort, said Egyptian presidential spokesperson Bassam Radi in a statement.

In his speech, Sisi will review the African vision for achieving peace and sustainable development, and for consolidating cooperation and partnership between Africa and the G7 countries, Radi said, adding that the president will hold several bilateral meetings with participating world leaders on the sidelines of the summit.

The three-day summit, which convene under theme "Fighting Inequality," addresses a number of issues, including international security, counterterrorism, cybersecurity, human trafficking and illegal migration, combating inequality and supporting women empowerment especially in Africa, the global economic and financial system, as well as environmental, climate and diversity issues.

G7 stands for seven countries (U.S., the UK, Japan, Italy, Germany, France and Canada), which represent 40% of the global GDP, according to the official website of the Elysee.

France had previously hosted the G7 summits for six times since the establishment of the group in 1975 to tackle global issues of peace, security, health, education, environment, climate change, counterterrorism, etc.

In October 2017, President Abdel Fatah al-Sisi paid France a four-day official visit, during which he tackled bilateral and international and regional issues with French counterpart Emmanuel Macron in Elysee Palace.

On January 28, 2019, Macron paid Egypt a three-day visit, during which the bilateral relations, as well as the crises in Syria, Libya, Palestine, and Africa were discussed.