Egypt determined to tackle measures aimed at reducing emissions at COP27, FM tells Espinosa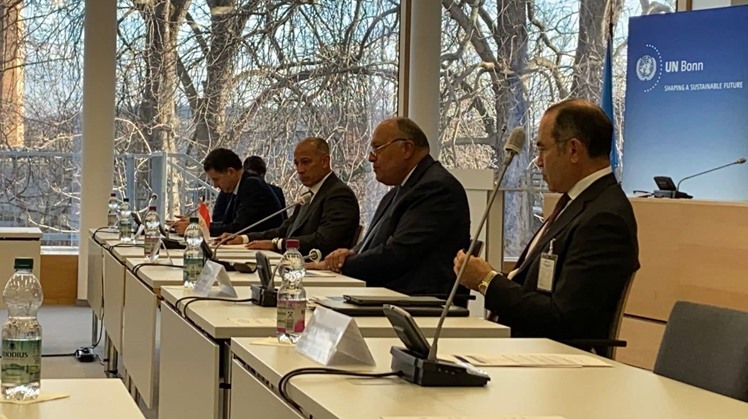 Tue, Feb. 15, 2022
CAIRO – 14 February 2022: Egypt's Foreign Minister Sameh Shoukry said Egypt is determined during its presidency of the UN climate change conference (COP27) to work on achieving the aspirations entrusted to the conference.

Shoukry met on Monday with Patricia Espinosa, the Executive Secretary of the Secretariat of the United Nations Framework Convention on Climate Change during his visit to Bonn.

Egypt will host COP27 in November this year in the Red Sea resort city of Sharm El-Sheikh.

Achieving the aspirations entrusted to the conference should take place through activating the commitments in this regard, especially regarding efforts of adaptation to the negative impacts of climate change, and funding developing countries' capabilities to implement its relevant commitments, Shoukry said.

This is in addition to taking effective steps in connection with measures aimed at reducing emissions that cause climate change, Shoukry added.

Shoukry praised the role of the secretariat in making the COP26 conference in Glasgow a success, noting that Egypt will take advantage of the momentum and conference outcomes to build on them at COP27.

Egypt also looks forward to working with the convention secretariat during the coming period to make COP27 a success, Shoukry said.

The Egyptian Foreign Minister briefed Espinosa on the efforts made by the National Higher Committee that was formed to prepare for hosting the conference.

Espinosa greeted Egypt for the efforts exerted to make the upcoming conference a success, stressing the secretariat's aspiration to continue working with Egypt in order for COP27 to produce the desired results.

'One Ocean' Summit and COP27

On Friday, Egyptian President Abdel Fattah El-Sisi said COP27 will witness a constructive dialogue based on best practices to reach ambitious results and initiatives to preserve seas and oceans.

Sisi made the remarks during a speech in the "One Ocean Summit" held in the French port city of Brest, which seeks to step up international efforts to protect the seas and oceans from the negative impacts of climate change.

COP27 will build on Portugal's scheduled hosting of the 2022 UN Ocean Conference in mitigating the effects of climate change on the seas and oceans and mobilizing the financing needed by African developing countries in this regard, Sisi said.

The Egyptian state, as president of COP27, calls for intensifying global efforts aimed at protecting sustainability and diversity of marine life in seas and oceans, the president affirmed.