COP27 to witness many projects that can be financed, implemented: Mahmoud Mohieldin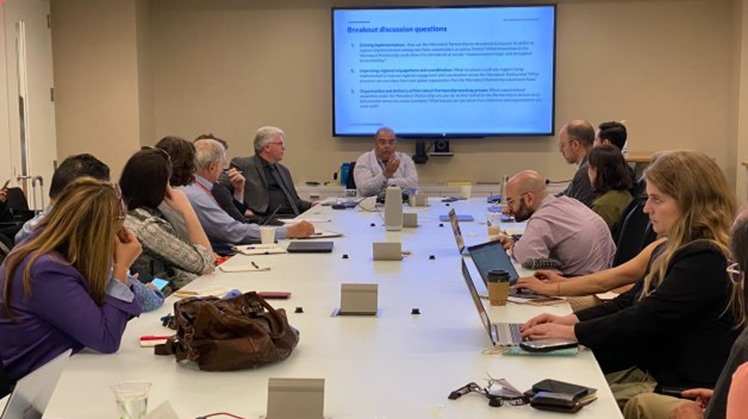 Wed, Sep. 21, 2022
CAIRO - 21 September 2022: UN Climate Change High Level Champion for Egypt and UN Special Envoy on Financing 2030 Sustainable Development agenda, Mahmoud Mohieldin, highlighted the priorities of COP27 due to be held next November in Sharm El-Sheikh, which is based on the Paris Agreement and focuses on measures to mitigate the effects of climate change, especially the commitment to limiting the rise in global temperature by 1.5 degrees Celsius, in addition adaptation, loss and damage and finance .

This came during Mohieldin's speech at the Marrakesh Partnership meeting within the framework of New York Climate Week activities , where he stressed the need to enhance understanding and economic cooperation between different countries.

As for mitigation, the climate champion stated that there has been remarkable progress in this file and a positive response from the private sector and non-governmental actors, but there is a need to make more efforts to scale up finance through concessional financing means and reducing debts. Mohieldin noted that 61 percent of climate finance in the world depends on borrowing, which exacerbates the debt crisis in light of high inflation rates.

As for the adaptation front, Mohieldin said that there are a number of good solutions, referring to the outcomes of the four regional forums organized by the Egyptian Presidency of COP27 in cooperation with the regional commissions of the United Nations and the High Level Champion. The forums resulted in more than 70 investable and bankable projects.

According to Mohieldin, half of these projects are related to adaptation and related sectors, amid positive responses from representatives of the private sector.

He also made it clear that many discussions are currently taking place with investment banks and various private institutions regarding the financing of those projects due to be presented at the upcoming climate summit in Sharm El-Sheikh.

In a related context, he stressed the need to mobilize more efforts to address the loss and damages caused by climate change, pointing to the humanitarian disaster and heavy losses incurred by Pakistan as a result of climate change.

Mohieldin also stressed the need to cooperate with the insurance sector to face current and future damages caused by climate change, as the cost of facing loss and damage exceeds $300 billion.

Mohieldin also stressed the need to align countries' budgets to the priorities of development plans and implement adequate models according to the needs of those countries, referring to the role of political leaders in opening new horizons for financing and technology needed to promote climate and development work.

Furthermore, he stressed the need to enhance trust and multilateralism among all concerned parties by integrating the regional and local dimensions in climate action, as well as fulfilling previous pledges. He also warned against deviating from the desired goals, especially in light of the geopolitical changes and economic challenges facing the world today, a matter that will help advance the climate and development agendas.