Egypt's FM meets with Arab committee concerned with coordinating on GERD with UNSC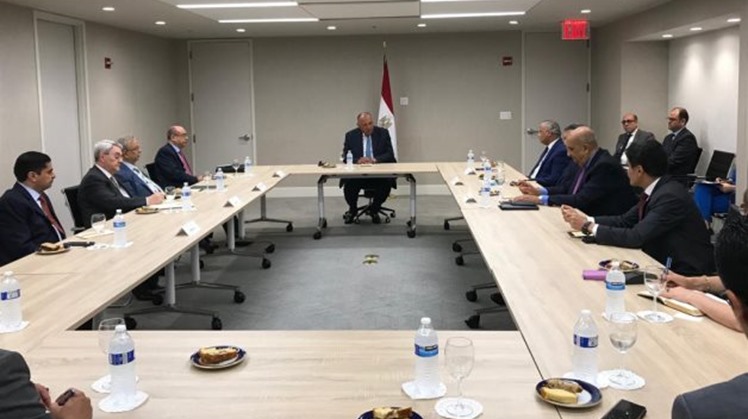 Mon, Jul. 5, 2021
CAIRO – 5 July 2021: Egypt's Foreign Minister Sameh Shoukry held discussions on Monday with the Arab committee concerned with coordinating on the Grand Ethiopian Renaissance Dam issue with the United Nations Security Council (UNSC) in New York.

The committee includes Saudi Arabia, Jordan, Iraq, Morocco and the Arab League. This comes in preparation for the planned Security Council issue on GERD.

The 15-member council is expected to convene this week to discuss the GERD dispute between Sudan, Ethiopia and Egypt over the mega dam Ethiopia builds on the Blue Nile.

Shoukry also met with Ambassador Tarek Adab, Tunisian permanent representative to the UN in New York.

At the meeting, Minister Shoukry stressed Egypt's keenness to closely coordinate with Tunisia in the GERD file in light of the excellent bilateral relations that "unite the two countries, and taking into account that Tunisia is the current Arab member of the Security Council," said Egyptian Foreign Ministry's official spokesperson Ahmed Hafez in a statement.

Shoukry praised the great support provided by Tunisia to the Egyptian position in this file, Hafez added.

Shoukry headed on Sunday for New York within the framework of preparations for an urgent meeting of UNSC on GRED.

Shoukry also met with the African group in the Security Council that consists of Niger, Kenya and Tunisia to explain the Egyptian stance on GERD.