Egypt's Minister of Culture participates in the first Naples Conference of the Ministers of Culture of the Euro-Mediterranean region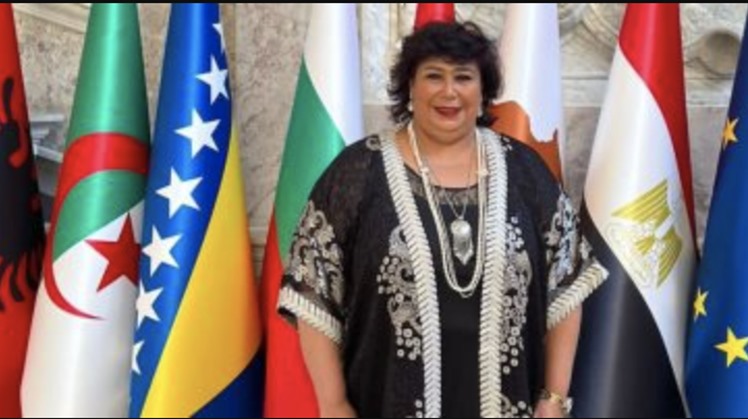 Tue, Jun. 21, 2022
Dr. Enas Abdel Dayem, Minister of Culture, headed to Naples at the invitation of the Italian Ministry of Culture to participate in the activities of the Naples Conference of Culture Ministers in the Euro-Mediterranean region.

The meeting is the first for the culture ministers of the EU-South Partnership, which will be held on Thursday and Friday 16-17 June with the aim of strengthening and supporting the partnership in the cultural fields between the countries of the EU and the South.

Inas Abdel Dayem said: The conference represents an important step on the way to implementing more cooperation projects between the Euro-Mediterranean countries and the South in the cultural and creative fields, preserving heritage and sponsoring creators.

The Minister praised the presence and representation of many international organizations and institutions working in the field, and made it clear that the presence of Egyptian culture and creativity in international forums reflects the nation's civilized leadership and confirms its regional and global influence.

It is worth noting that the conference is holding its first session in coordination between the Italian Minister of Culture and the Presidency of the European Union in France, with the participation of culture ministers from the European Union and the Mediterranean countries, as well as a number of international organizations and institutions, including the United Nations Office on Drugs and Crime (UNODC), UNESCO, ICCROM International Center To study the preservation and restoration of cultural property.

The conference will discuss several topics, including promoting the fields of culture and heritage as a common interest between the participating countries and organizations, protecting heritage from illegal trade, setting development policies for culture and the creative economy in light of the United Nations sustainable development agenda 2030, the impact of climate change on culture and heritage in preparation for the COP27 conference in Egypt, The opportunities offered by the Erasmus program to support talents in the field of culture and the arts and hone their skills.