Mon, Jun. 24, 2019
Every once in a while comes a movie that steals the show and create a huge buzz in town, this season it was The Passage (Al Mammar) written and directed by the phenomenal Sherif Arafa.
"The Passage" delves into the thorny period that preceded the setback of June 1967, a period that has been hidden for many years. The movie reviewed some of the reasons for the severe defeat, and the Egyptian soldiers in the Sinai at the time of annihilation by aircraft, the withdrawal of soldiers without organizing, and the impact of that defeat on all segments of Egyptian society and within the army as well.
The historical research of the film took months and its writing took more than a year from Sherif Arafa, who says "The film discuss history, and history has documents. When I introduce something related to history, I have to study the period I am presenting, and I have to turn to many references, from more than one source. I used sources from the Egyptian, Israeli, Russian and other sides, documentaries of the BBC, the Russians, Israeli television, or any memoirs written by the contemporary of this stage, whether from the soldiers or the writers, because we speak of a very important stage in history and have more than one of the countries of the world involved."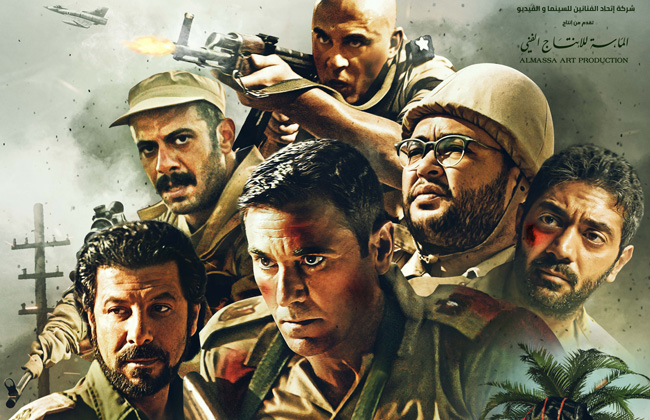 "I was thinking very well that this film will be seen by the Arab, Israeli, American and other citizens. There must be a high degree of credibility, because we do not present a film for only the Egyptian viewer, the period of 1967 and beyond touches many countries in the region and beyond."
Shooting the movie was a very hard thing to do, Arafa stated, but he found pleasure in presenting something different and everyone was looking forward to see. The fun included the months of filming in the desert and the post-production stage. It is a new experience in the history of the Egyptian cinema, as well as presenting this quality of picture.
The film was written and directed by Sherif Arafa. He participated in writing the dialogue of the film and composed songs by the poet Amir Taaima. The film discusses the time period from the 1967 war to the first times of the war of attrition.
The film starring Ahmed Ezz, Ahmed Rizk, Iyad Nassar, Ahmed Falawkas, Mohamed Farrag, Ahmed Salah Hosni, Mohamed El Sharnouby, Mohamed Gomaa, Mahmoud Hafez, Amir Salah Eddin, Asma Abu El Yazid and the new face Alhan Mahdi. The film includes Hend Sabri, Sherif Mounir, Anam Salousa and Hajjaj Abdul Azim as honor guests, and composed the soundtrack of the film Omar Khairat.