The exhibition of Sarcophagi for the 1st time in the Egyptian Museum in Tahrir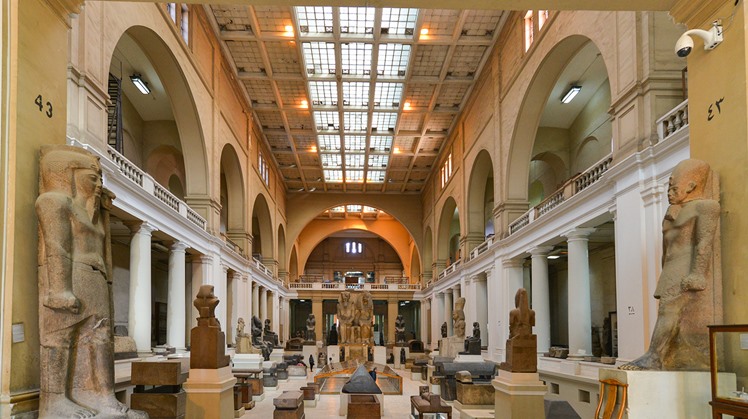 Thu, Nov. 19, 2020
Egypt's Minister of Tourism & Antiquities Khaled el-Enany inaugurated on November 18 the permanent exhibition Hall No. 52 of the Egyptian Museum's upper floor, which was dedicated to displaying royal mummies that will be displayed in the National Museum of Egyptian Civilization in Fustat.





What is the name of the permanent exhibition hall?


The exhibition is titled "Caches: Hidden Treasures". It is a permanent exhibition displayed in the Egyptian Museum in Tahrir.





What does the exhibition display?


It includes a group of selected wooden coffins of up to 50 colored sarcophagi, including two from the Saqqara discovery, 48 sarcophagi from the Egyptian Museum in Tahrir, of which 15 are on display for the first time and others were on display on the third floor of the museum and in the basement. These coffins have received a grant project that began in 2016.


Why are these coffins displayed as a permanent exhibition?


The exhibition is the culmination of the completion of the project of documentation and maintenance of wooden coffins preserved in the Egyptian Museum in the basement and the third floor. It won the grant of the American Ambassadors Fund for the Preservation of Cultural Heritage for the year 2016, after the approval of the Board of Directors of the Supreme Council of Antiquities.



How many coffins are included in the project?


During the project, an inventory, documentation and evaluation of the current situation of 626 coffins that were kept in the basement and the third floor in the Egyptian Museum were completed.



They were also preserved in scientific ways after the completion of documentation, maintenance and imaging of high-quality images using the latest imaging technologies..



Where were the coffins discovered?

Many of the most famous ancient Egyptian mummies and coffins were found in caches in Thebes, on the western mainland of the present-day Luxor.