Watch The Restoration of wooden statue of Horemheb in Egypt's Grand Museum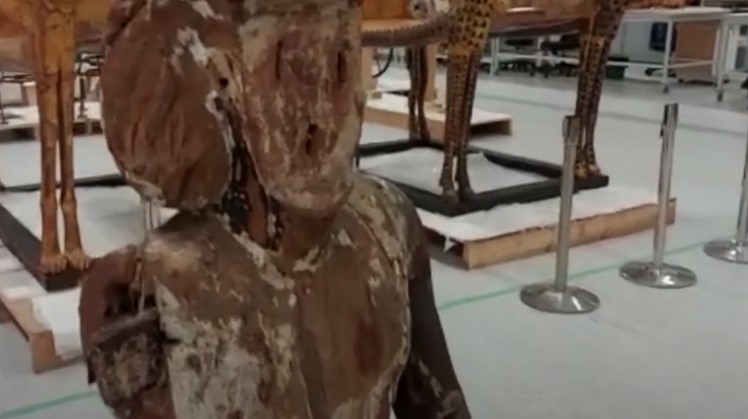 Wed, Sep. 23, 2020
The restoration of the statue of Horemheb in the Wooden Antiquities Laboratory inside the restoration centers of the Grand Egyptian Museum.



The whole world is highly anticipating the opening of the Grand Egyptian Museum as it houses a large number of artifacts, and a complete display of King Tutankhamun's collection.



Vice President of the Wooden Antiquities Laboratory at the Grand Egyptian Museum

Ahmed Abd Rabbo said the laboratory contains two statues of Horemheb, which illustrate the industrial craftmanship of the ancient Egyptians in the manufacture of wooden statues.



Abd Rabbo also said the statues are covered with two layers of preparation and gilding and is difficult to see how they were made. The statues are currently in the restoration laboratory awaiting the start of their restoration.





According to Abd Rabbo, there are also two statues of a woman and a man from the Old Kingdom covered in preparation layers and their colors are removed. The two statues are currently being restored in the laboratory.



"When a piece is received in the laboratory, we first start the documentation work, using multispectral imaging. There is the normal photograph, and there is an urtlaviolet imaging, through which the parts witnessing previous restorations are identified, in addition to the infrared imaging, which works to expose parts that cannot be seen with the naked eye. Also, there is the X-ray imaging which helps us determine the technique of making the piece by the ancient Egyptians" explained Abd Rabbo.



"After that, the checks and analyzes are done. At this stage, the use of advanced scientific devices comes into play. Through it, we can know the components of the piece without taking any samples. Through spectroscopy, we can know the existing layers of preparation, decoration and coloring. Through analysis, we can identify previous restoration materials, previously used on the piece. We then begin with the pilot study, which is applied to a cloned sample with the same specification of the original piece before applying it to the artifact itself" resumed Abd Rabbo.



He pointed out that after that, it is decided whether the restoration is done with the traditional used materials or using modern materials. These studies are time-consuming until it is decided which substance will be used on the artifact, because after using that material, examinations and analysis are repeated to see the extent of how it the substance will affect the original artefact.



"We then begin to install the veneers and cement, and prepare the artifact for the museum display" concluded Abd Rabbo.