King Tutankhamoun Exhibition Is Stealing The Show In Paris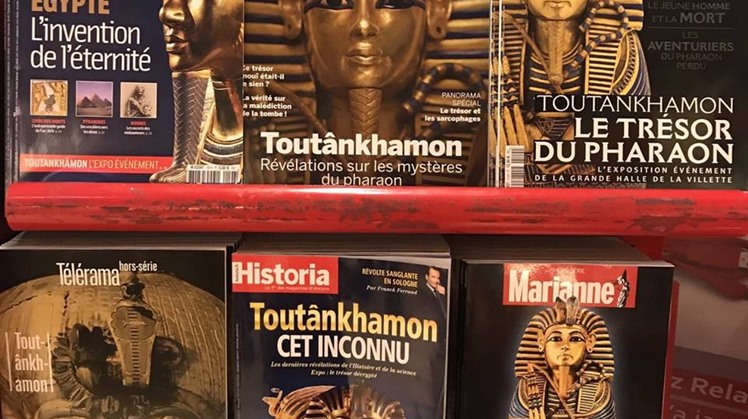 Sun, Mar. 24, 2019
CAIRO – 24 March 2019: After a trip to California, the itinerant exhibition of King is stopping in Paris in La Villette's Grande Halle. Over 130,000 tickets were sold out before the official inauguration. It is a great exhibition during which you'll be able to admire exceptional collection of the Grand Egyptian Museum composed of objects, representations, archives and scientific technics that helped learning about Egyptian History. All the prominent French magazines were eager to put the young king's picture on their cover this month.

Since 2012, Paris hadn't had such a big exhibition about Tutankhamun. At the time, it was at Porte de Versailles. Otherwise, it was at the Petit Palais in 1967! The streets, main squares, buildings and metro stations in Paris were decorated with huge banners bearing the face of The Golden King and some of his treasures.

You'll see more than a hundred objects, golden jewellery, furniture, sculptures and ritual objects among which some pieces had never left Egypt before.

Egyptian Minister of Antiquities Khaled al-Anany is due to officially mark the start of the exhibition in Paris on Thursday under the title "Tutankhamun, Pharaoh's Treasures". The exhibition will continue until mid-September. 

The most prominent of these newspapers and magazines such as Le Figaro, Sciences et Avenir, Télérama. Marianne, Historia, Beaux Art…all used the young king's pictures on their covers.

The excitement at the French capital for the exhibition is through the roof.