The story behind the 1800 Luxor Temple painting by French artist Francois Charles Cecile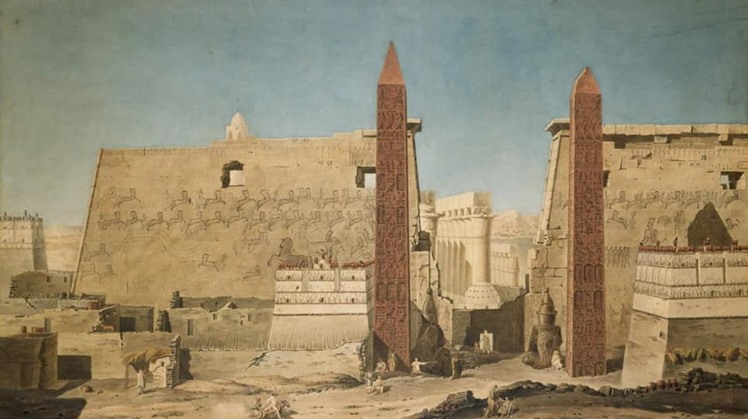 Sun, Jun. 28, 2020
The Ministry of Tourism and Antiquities has chosen a number of archaeological sites and museums to reopen them to the public gradually as a first stage during the next month, in light of the precautionary measures to prevent the outbreak of the new Corona virus as a benefit 19 and spread in various countries of the world, and among those archaeological sites Luxor Temple, which begins to receive visitors Again, the first of July, and for this we publish pictures of the temple shape by the French artist François Charles Cecile, and the facade of the Luxor Temple is seen in the year 1800 AD.

The painting of the French artist Francois Charles Cecile, published by the official page of the effects of Luxor, shows its obelisk in its original location before being transferred to the Place de la Concorde in Paris, which is made of red granite and is 22.5 meters high and weighs about 227 tons, where it arrived in Paris on December 21, 1833, after having It was shipped from Luxor via Alexandria and Cherbourg, and three years later, on October 25, 1836, it was moved to the middle of the Place de la Concorde by King Louis Philippe, and it is reported that who gifted that obelisk to France was Muhammad Ali Pasha, the ruler of Egypt at that time.

The Luxor Temple is considered one of the most famous monuments that were constructed in the Middle Ages. King Amenhotep the Third built it to worship the god Amon Ra. In addition to affirming his lineage to the god Amon, the ancient Pharaonic traditions urged that Egypt be ruled by a former Pharaoh, or at least To marry a daughter of Pharaoh who had previously ruled Egypt, and unfortunately neither of the two conditions did apply to Amenhotep the Third, so his loyal men and followers advised him to establish a huge temple to glorify and worship the god Amon Ra, in order to confirm his lineage to him so that he could rule Egypt, and indeed it was achieved for Amenhotep The third was what he wanted completely and was able to rule Egypt.


Inside the Luxor Temple there is an obelisk built by Ramses II to depict his war accomplishments and his victory over the enemies in it, which is the first tower with a height of 24 meters "79 feet", built by Ramses II and decorated the tower with scenes of Ramses' military victories in the "Battle of Kadesh", as recorded the victories of the Pharaohs at a time Subsequently, the family wins 25 "Nubian dynasty."