100 Universal Paintings .. "Exit from Prayer" How Egyptians respect the "world of religion"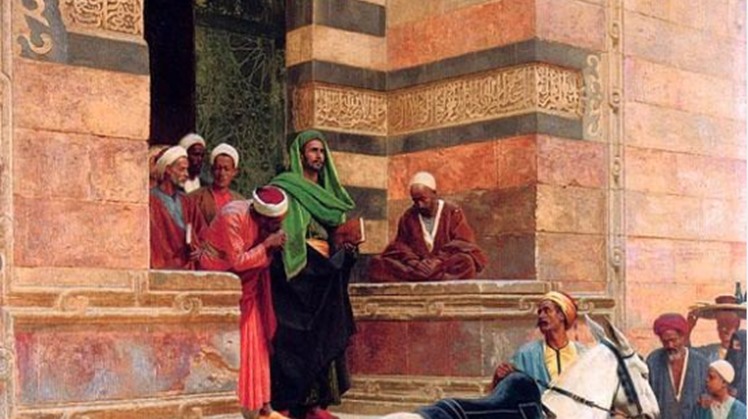 Thu, May. 14, 2020
Among the important Orientalists in the history of art who expressed their admiration for the Egyptian civilization and the daily life of the Egyptian man, the Austrian artist "Ludwig Dutche", including his painting "Exit from the Prayer", which he created in 1900.
Exit the prayer
 
 Ludwig Dutch painted the exit of the worshipers from the mosque after the end of the prayer in a very expressive picture of the spiritual state in Egypt, including their respect for the cleric, and the researchers identified the place depicted in the painting as "the entrance to the Khanqah of Barquq on Al-Moez Street".
At first, we notice the grandeur of the mosque building, then we notice the respect that the imam exiting from the mosque has, so one of the worshipers accepts his hand, while people walk behind him in dignity, and he is in his distinctive clothes, including the green head covering, he looks straight ahead of him, leaving his hand for the man to accept it He holds a book in his hand, which seems to have been taught from him, and is preparing to drop the five steps of the stone ladder, and waiting for him a man stands beside him "a strong donkey" preparing to move the cleric to his home, and on both sides of the road in front of the mosque we find people stand in great respect as well.
 
Born in Vienna in 1855 - he left in Paris (1935). Born to a prominent Jewish family, his father was a financier and a member of the Austrian imperial court.