Abu Dhabi crown prince praises Egypt's role in protecting Arab national security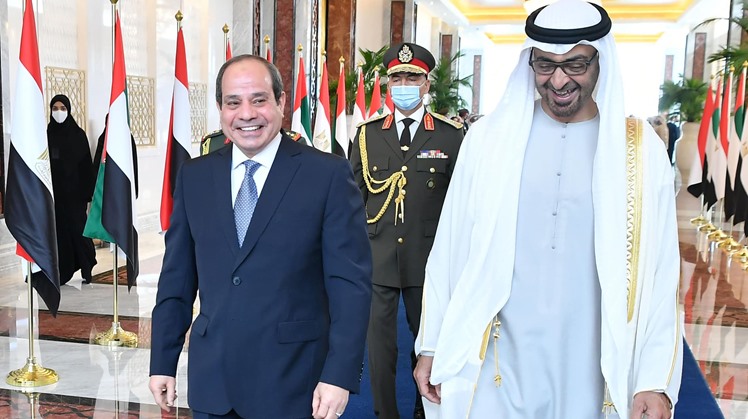 Wed, Jan. 26, 2022
CAIRO – 26 January 2022: Abu Dhabi Crown Prince and Deputy Supreme Commander of the Armed Forces Mohamed bin Zayed expressed appreciation of Egypt's role under President Abdel Fattah El-Sisi to protect Arab national security and defend Arab nations, Presidential Spokesman Bassam Radi said on Wednesday.

Sheikh Mohamed Bin Zayed made the remarks during a meeting with Sisi in Abu Dhabi's Al-Watan Palace.

Meeting with Sisi, Sheikh Mohamed Bin Zayed praised Egypt's continued efforts to establish regional security and stability based on Egypt's pivotal role regionally.

Sisi affirmed Egyptian-Emirati relations and Egypt's keenness to develop close bilateral cooperation and coordination for the benefit of the two brotherly peoples and the Arab nation.

This comes especially by intensifying the pace of bilateral meetings between senior officials from both countries periodically to coordinate actively and mutually towards the successive developments currently taking place in the Middle East region, Sisi said.

This also seeks to strengthen the unity of ranks and joint Arab and Islamic action in facing various regional challenges, the president added.

The President also stressed that his current visit to the UAE comes as a continuation of the course of the close and distinguished relations that bind the two countries and the single destiny and future that they share.

Sisi expressed the solidarity of the Egyptian government and people with the sisterly UAE in light of the recent terrorist incident, which resulted in the death and injury of a number of civilians.