Egypt praises peace deal signed between Sudan, Darfur rebel groups in Juba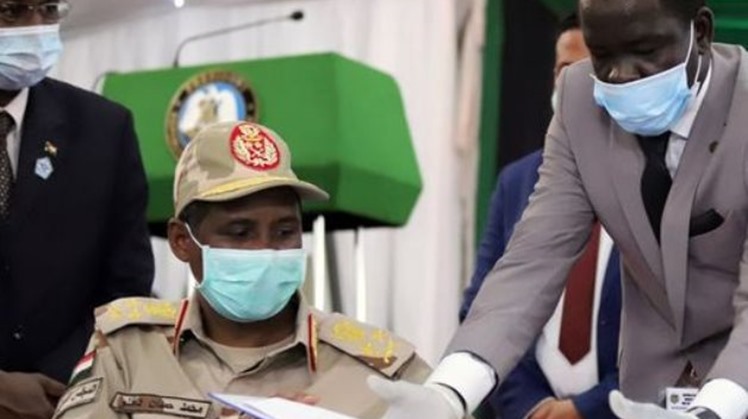 Tue, Sep. 1, 2020
CAIRO – 1 September 2020: The Egyptian Foreign Ministry on Monday hailed a peace agreement initiated by Sudan's transitional government, Sudan Revolutionary Front and rebel forces from Darfur in South Sudan's capital, Juba.



The ministry in a statement affirmed Egypt's keenness to back all efforts aiming to maintain stability in Sudan, in coordination with international and regional partners.



Egypt will stand with Sudan in implementing the peace agreement and spare no effort to support the Sudanese people, Osama Shaltout, the assistant foreign minister for Sudan and South Sudan Affairs, said on Monday.



Shaltout was addressing the signing ceremony of the peace agreement between the Sudanese government and the Revolutionary Front in Juba.



Shaltout conveyed President Abdel Fattah El Sisi's greetings to South Sudan President Salva Kiir, the South Sudanese people, and the mediation team.



He appreciated the Sudanese premier for his keenness to build a new Sudan based on democracy, justice, and peace, noting that peace issues top the transitional period's priorities.



He also pointed to Egypt's efforts to unify the Sudanese parties, saying Cairo constantly communicates with the Sudanese government, the armed factions, and political powers throughout the negotiation process.



Earlier in August, Chief of Egypt's Intelligence Service Abbas Kamel headed to South Sudan, where he met with President Salva Kiir Mayardit and a number of officials.



He also discussed with leaders of the Sudanese Revolutionary Front (SRF) preparations concerning the peace process between Sudan and the armed factions.



Earlier, Egypt's President Abdel Fattah El Sisi has conveyed a message of the South Sudanese president, affirming the strength of the bilateral ties between the two countries.