AJC delegation hails Egypt's efforts to protect Jewish heritage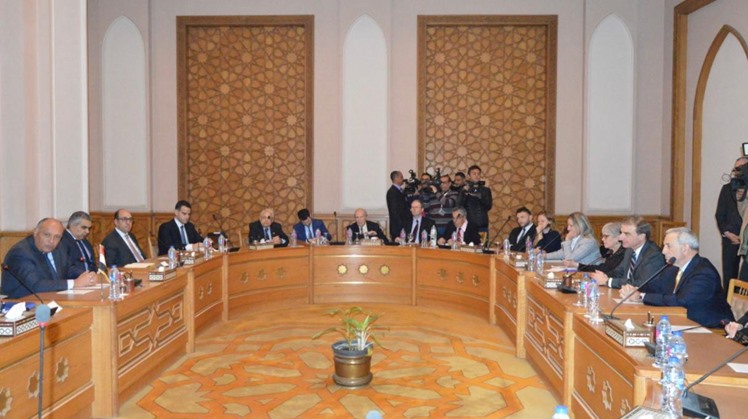 Mon, Feb. 24, 2020
CAIRO - 24 February 2020: A delegation from the American Jewish Committee (AJC) visited Cairo and praised the Egyptian Government's efforts to protect the Egyptian Jewish heritage and antiquities, said Foreign Ministry spokesperson Ahmed Hafez in a statement on Sunday.

Egyptian Foreign Minister Sameh Shoukry met on Sunday with the delegation in the headquarters of the ministry, and discussed means of enhancing the bilateral US-Egyptian relations. "The delegation also commended the ongoing coordination with Cairo," Hafez added.

Shoukry affirmed Egypt's keenness to enhance its relations with US on the political, economic, developmental, and investment levels, and reviewed the Egyptian counter-terrorism role, which coincides with the economic reform measures.

"The meeting dealt with regional issues, as the delegation focused on the Egyptian vision regarding the various regional issues, including the Palestinian cause and the peace process," Hafez said.

In September 2017, an AJC delegation paid Egypt a visit, during which they discussed the Egyptian-US relations and the importance of promoting them. They also discussed Egypt's efforts to achieve inter-Palestinian reconciliation and to address the conditions in Gaza Strip.

On January 23, 2020, the US Embassy in Cairo announced launching a project for the conservation of the Bassatine Cemetery in Cairo, one of the oldest Jewish cemeteries in the world. This is the latest project funded under the Ambassadors Fund for Cultural Preservation (AFCP).

Mid-January, head of the Jewish Community in Egypt Magda Haroun and Minister of Antiquities and Tourism Khaled al-Anani opened Alexandria-based Eliyahu Hanavi synagogue after 3 years of restoration.

"Egypt has 11 synagogues registered as antiquities,'' head of the Jewish Antiquities Section at the Supreme Council of Antiquities Mohamed Mahran told Egypt Today in previous remarks.