Egypt's Sisi hands over presidency of African Union to South Africa for a year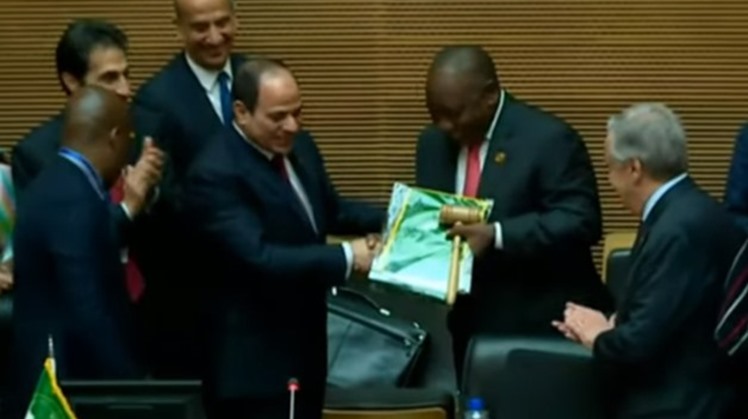 Sun, Feb. 9, 2020
CAIRO – 9 February 2020: Egyptian President Abdel Fattah el-Sisi on Sunday handed over the presidency of the African Union to South Africa for a year, during his participation at the 33rd African Union Summit in the Ethiopian capital of Addis Ababa.

In a speech, President Sisi reviewed Egypt's achievements during its presidency of the AU last year, saying it managed to reinforce the state of security and peace in the continent through the principle of "African solutions to African problems," despite challenges of terrorism and extremism, especially in the Sahel region and the Horn of Africa.

Egypt has implemented the principle of "African solutions to African problems" through many initiatives, Sisi said, including hosting two consultative summits on Libya and Sudan, and testing it on several issues such as that of Guinea-Bissau, South Sudan and Central Africa.

For his part, President of South Africa Cyril Ramaphosa praised the hard work President Sisi did during his presidency of the AU, according to media reports. He said an extraordinary meeting will be held in the middle of this year to discuss the activation of the African Continental Free Trade Agreement (AfCFTA).

Proceeding with counter-terrorism efforts in Africa, Sisi stressed, during his speech, Egypt's full readiness to host an African summit dedicated to discuss forming an African force to combat terrorism, with the aim of achieving peace and security in the continent, under the supervision of the AU's Peace and Security Council and the Specialized Technical Committee on Defense, Safety and Security (STCDSS).

Sisi hailed the efforts Egypt made during its presidency of the African Union, and highlighted the establishment of a framework to develop the African infrastructure 2021-2030, including the project to put a main plan to establish a global power interconnection project, and the project to establish a land road between Egyptian capital of Cairo and South Africa's capital of Cape Town.

The president again congratulated Ethiopian Prime Minister Abiy Ahmed for winning the Nobel Peace Prize last year, and also paid tribute to the peoples of the African states.