Egyptian FM, Blinken discuss means of boosting cooperation in phone call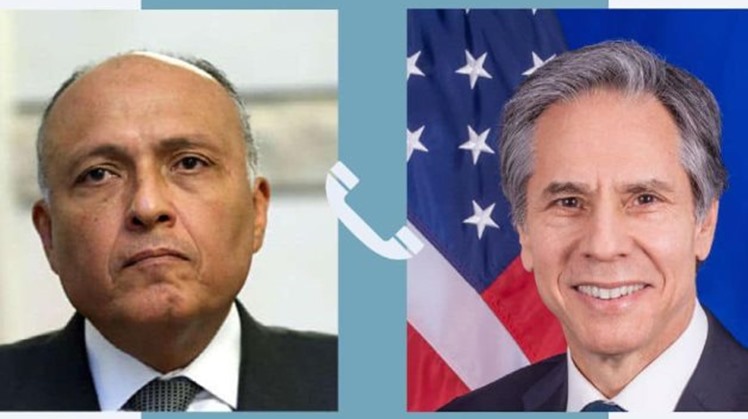 Fri, Jan. 28, 2022
CAIRO – 27 January 2022: Egypt's Foreign Minister Sameh Shoukry and United States Secretary of State Antony Blinken discussed in a phone call on Thursday means of boosting cooperation between the two countries.

The two parties reviewed the relations between Cairo and Washington with the aim of enhancing and expanding bilateral relations as desired by the two sides, a statement by the Egyptian Foreign Ministry said.

The phone call also discussed a number of regional issues with the aim of exchanging views and coordination in a way that ensures resolving the different crises and achieving stability and security in the region.

Shoukry and Blinken led the US-Egypt Strategic Dialogue in Washington in November for the first time in six years.

During the dialogue, the United States reiterated President Joe Biden's support to Egypt's water security, a joint statement by Cairo and Washington read, as both sides discussed the Grand Ethiopian Renaissance Dam (GERD) file.

"The United States and Egypt called for the resumption of negotiations over an agreement on the GERD under the auspices of the Chairperson of the African Union, in line with the Presidential Statement of the United Nations Security Council of September 15, 2021, and the 2015 Agreement on Declaration of Principles," the statement added.

During the dialogue, they discussed a number of issues including the Libyan crisis, Sudan, and the humanitarian crises in Syria, Lebanon, and Yemen.

The two countries called for holding Libya's elections, as scheduled, on December 24, and agreed on backing the action plan of the Libyan [5+5] Joint Military Commission regarding the exit of all foreign forces, fighters, and mercenaries from the Arab country.

The two sides agreed to continue high-level consultations on Middle East and African issues as they discussed efforts to resolve regional conflicts and humanitarian crises in Syria, Lebanon, and Yemen.

The US also hailed Egypt's leadership's efforts to mediate solutions to regional conflicts, especially regarding the promotion of peace and ending violence in the Gaza Strip.

The two countries agreed on their commitment to expand their bilateral cooperation regarding economy, commerce, climate, defense, counterterrorism, border and maritime security.

They also agreed on boosting diplomatic and consular cooperation, educational and cultural cooperation, as well as judicial and law-enforcement cooperation to combat transnational crime.