Pompeo thanks Egypt for handing medical aid to US amid coronavirus crisis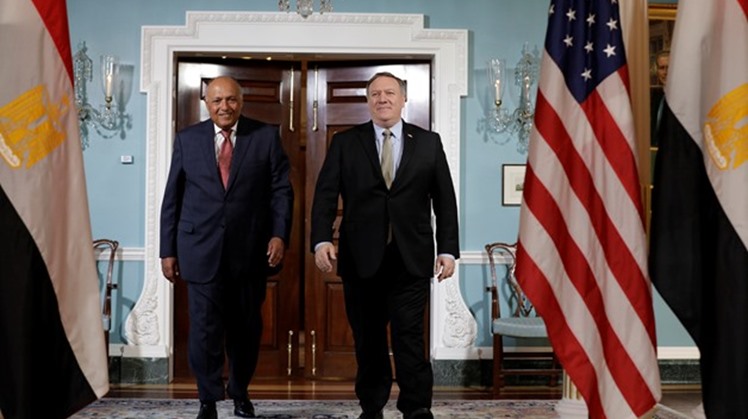 Thu, Apr. 23, 2020
CAIRO – 23 April 2020: Egypt's Foreign Minister Sameh Shoukry discussed updates about the spread of coronavirus (COVID-19) with his American counterpart, Mike Pompeo, and the national efforts to mitigate the effect of the pandemic on economy, the Egyptian Foreign Ministry said on Thursday.

In a phone call, Pompeo thanked the Egyptian side for an initiative to provide the United States with medical aid to contribute to facing coronavirus, saying it indicates strong friendship relations between the two countries.

This comes as the United States has reported almost 856,000 coronavirus cases and more than 48,000 deaths, according to Worldometers, which makes the highest toll among countries worldwide.

Shoukry and Pompeo reviewed a number of regional issues of mutual concern, including the updates of the Grand Ethiopian Renaissance Dam (GERD).

Egypt and Ethiopia are at loggerheads over the $4-billion dam; Cairo voiced concern over its water share [55.5 billion cubic meters] after Ethiopia started building the dam on the Blue Nile in May 2011. A series of tripartite talks between the two countries along with Sudan began in 2014. One year later, the three countries signed the Declaration of Principles, per which the downstream countries [Egypt and Sudan] should not be negatively affected by the construction of the dam.

The United States has announced it will continue to work with Egypt, Ethiopia and Sudan until they sign an accord on the hydropower dam, according to U.S. Treasury Secretary Steven Mnuchin.