The Ministry of Antiquities transports the coffins of Assassif to the Egyptian Museum after 4 November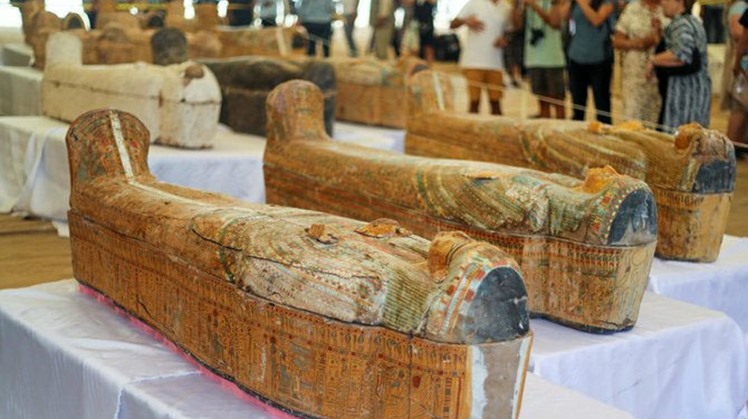 Sun, Oct. 27, 2019
Dr. Al-Tayeb Abbas, director general of the Grand Egyptian Museum for Archaeological Affairs, said that the recently discovered Al-Assaif cache will be equipped in Al-Assaif area in the west of Luxor, after the completion of the temporary display on 4 November.

The General Director of the Egyptian Museum of Archaeological Affairs, that the process of moving the cache of Assasif will be after the inspection of the coffins before the transfer and the work of first aid other than that was done by the restorers of Luxor, and then make a report on each coffin, to be recorded after that.

Dr. Al-Tayeb Abbas said that the specialized transport team is then dispatched at the highest level with all the necessary materials such as foams, buffers and vibration buffers to be transported inside the isolation area before entering the Khashab factory, to make sure that they are not infected with insects. Because most pieces of wood are exposed to insect injuries, and after making sure they are not injured or the case of injury is treated, and then placed in the wood factory to begin the process of restoration.

The general director of the Egyptian Museum of Archaeological Affairs, that the coffins discovered in the area of ​​Assasif will be displayed in a full hall in a special, to be a dedicated hall and bearing the name "cache of Assasif."

The Ministry of Antiquities announced on October 19, the details of the discovery of the largest cache in the area of ​​the cemetery of Assasif, in the governorate of Luxor, by the men of the Egyptian archaeological mission, where 30 coffins belonging to the family of 22 Pharaonic times were discovered and placed in a warehouse near the surface of the earth to protect them from The first row was 18 coffins and 12 coffins for men and women, 3 of which were small children, and were placed by high priests to be stored in a stone gate store, belonging to the Pharaonic family.