Sun, Aug. 18, 2019
ANCIENT EGYPTIANS really could have reached the Black Sea's shores, proving the records of legendary Greek historian Herodotus.
Intrepid adventurers are set to embark on an 800 mile journey from the Black Sea to Crete on a boat built from materials available at the time of the ancient Egyptians. The odyssey aboard the Abora IV is intended to discover if the ancient Egyptians could have made similar trips in reed boats thousands of years ago. The 46ft-long (14m) boat will be crewed by a team of two dozen researchers from eight different countries.
Setting out from the Bulgarian port of Varna, on the Black Sea, the crew will work their way through the Bosphorus strait, across the Aegean Sea and on to Crete.
Famed Greek historian Herodotus is among the reputable sources claiming the ancient Egyptians mastered this feat of nautical navigation.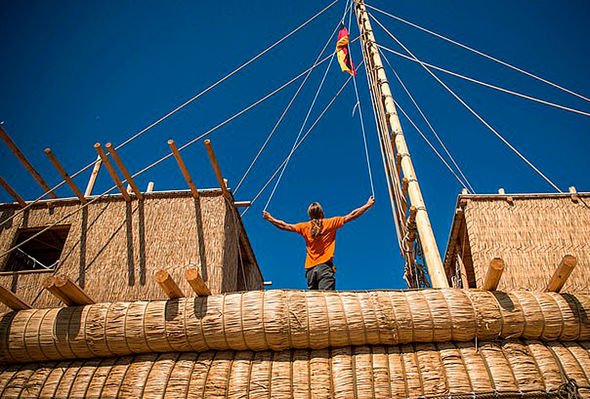 Herodotus wrote: "Egyptians sailed through the Black Sea to get materials that they could not have from the east Mediterranean."
The team aiming to prove the possibility of the claim is being led by experimental archaeologist Dr. Dominique Görlitz.
The boat launched yesterday, Thursday, August 1, and will need two and a half weeks to soak, when it will take in between five and 10 tonnes of water.
However, the boat cannot crack or sink thanks to the billions of air chambers inside its porous construction material, claims Dr Görlitz.
During his previous expedition in 2007, Dr Görlitz and the crew of the Abora III departed from New York and set sail for southern Spain in a bid to prove Stone Age explorers could make similar trans-Atlantic journeys.
Dr Görlitz's team managed to said for 56 days before a storm ripped apart his boat 560 miles (900km) short of the Azores, the Portuguese archipelago located in the mid-Atlantic.