Will Tanis' alternative holdings of Tutankhamun be presented in the manner of the Golden King?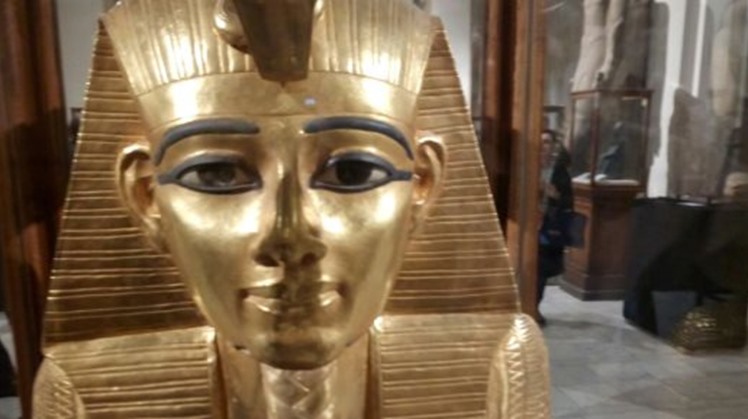 Tue, Aug. 31, 2021
It is known, as we previously published, that the holdings of Tanis will replace the holdings of the Pharaonic King Tutankhamun after the completion of its transfer from the Egyptian Museum in Tahrir to the Grand Egyptian Museum. ?

Archaeologist Sabah Abdel Razek, Director General of the Egyptian Museum in Tahrir, revealed that there is a new scenario that will be implemented on Tanis' holdings, which contain 2,000 pieces and masks, in addition to the golden mask, but the display method will be different, although it will be placed in the same places as the exhibits of King Tutankhamun's holdings. In the Egyptian Museum.

And Sabah Abdel Razek explained in exclusive statements to "The Seventh Day", that work is currently underway to prepare the two display cases for the holdings of Tanis and the guiding panels, and when the rest of King Tutankhamun's belongings are transferred to the Grand Museum, we will immediately start implementing the scenario of the new show for "Tanis ", which includes a large group of rare gold coins, not repeated in the Egyptian civilization, including necklaces, bracelets, accessories and many ornaments, and its holdings are called Tanis gold, because of its distinct and unrepetitive values.
The Egyptian Museum in Tahrir, in the heart of Cairo, includes the largest collection of ancient Egypt's antiquities, as it contains more than 136,000 Pharaonic antiquities, in addition to hundreds of thousands of antiquities in its stores.

As for its holdings, the Egyptian Museum consists of two floors, the ground of which is devoted to heavy artifacts, "such as stone coffins, statues, paintings, and wall inscriptions." The upper floor is devoted to light antiquities, such as "manuscripts, statues of gods, royal mummies, relics of daily life, images of mummies, incomplete sculptures, statues and utensils of the Greco-Roman era, and antiquities." especially the beliefs of the afterlife," as well as complete collections such as the "Tutankhamun Collection." The museum also includes a huge number of Egyptian antiquities from prehistoric times until the end of the Pharaonic era, in addition to some Greek and Roman antiquities, including "a group of pottery (from the ages of Prehistoric), Narmer Pillar (Monotheism era), Khasekhem statue (dynasty 2), statue of Djoser (dynasty 3), statues of Khufu, Khafre and Menkaure (dynasty 4), statue of Ka'ber and statues of servants (dynasty 5), and the statue of the dwarf Sanab (dynasty) 6), the statue of Mentuhotep Nebhepetre (dynasty 11), the statues of Amenemhat I, II and III (dynasty 12), the Ka statue of King Hor (dynasty 13), the statues of Hatshepsut and Tuthmosis III (dynasty 18), the Tutankhamun group (dynasty 18), and K . group Noz Tanis, and a large group of mummies from different eras.