Rare picture of Alexandria, during the reign of Khedive Ismail 1875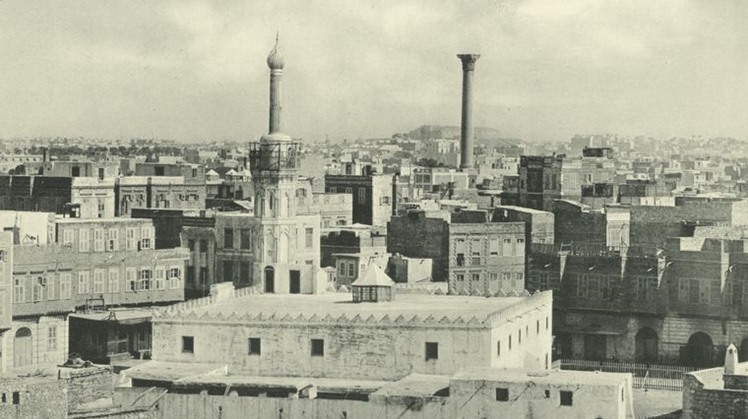 Wed, May. 5, 2021
Today, we see a picture of the ancient city of Alexandria dating back to the year 1875, that is, years before the British occupation of Egypt, which began in Alexandria.

This picture that we see conveys to us an important picture of the city of Alexandria, which was rebuilt by Khedive Ismail before it was destroyed by the British occupation.

Ismail planned in the city new streets and new neighborhoods, such as Ibrahim Street, which extends from the Seven Girls School to the Mahmoudiya Canal, and Customs Street, and Mahmoudiya Street, and opened 6 other streets extending between Bab Sharqi Railway and the war road that surrounded the city.
Alexandria
Its neighborhoods were illuminated with polluting gas by a foreign company, and its municipality was established to take care of organizing its streets and to carry out cleaning, health and maintenance work in them, and many of Alexandria's streets were paved, and underground sewers worked to drain rain water and other things, and the Khedive entrusted a foreign company to deliver fresh water from Al-Mahmoud Yeh to the city and distribute it. By Wabur Alexandria Water.

During his reign, the area of ​​Raml was built by a large building, and it was connected to the city with a railway line, and the Khedive established several palaces for him and his family to reside in it in the summer, and to him is the credit for making it the resort of the Egyptian country, and he opened a great street that starts from Rashid Gate and ends to the borders of navigation with the reins of (Mandara) passing In the Khedive Saray in Raml, its length from Sharqi Gate to the Sarayat 400 meters by 12 meters in width and from the Saray to the Navigation was 4000 meters by eight meters, and it extended a road from the navigation to the Mahmoudiya Canal.

He established the Nozha Park on the Mahmoudiya canal, made it a public park, built Saray al-Haqqaniyah in which the mixed court was established, repaired the port of Alexandria, and the number of the city's population during his reign reached 212,000 people.