"Akhenaten Dust of Light" returns to the Grand Opera Theater again .. All you Need To Know About The show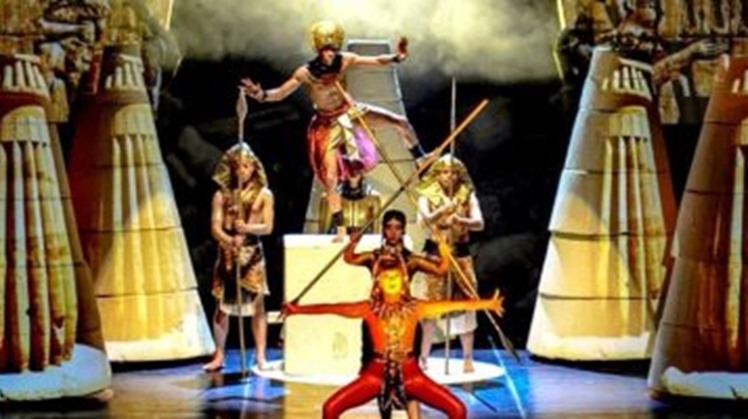 Sun, Nov. 29, 2020
Once again, the great Arab artist Walid Aouni returns to the Egyptian Opera House with the new show (Akhenaten .. Dust of Light), which is re-presented on the big stage at eight in the evening on the 26th and 29th of November with the heroes of the modern theatrical dance troupe. Intolerance) as a negative state that destroys humanity, in a theatrical framework that danced through the pharaoh who had the principle of unifying the gods in ancient Egypt, stressing the reforms he had made in his city, "Tell el-Amarna", and deciphering the intellectual state in which "Akhenaten" was manifested, using his wisdom to reach The light, which turns into dust after the destruction of that city in a fanatical struggle with the priests and the clergy, declaring that fanaticism destroys the peoples, making them refugees, just like the sun boats for transport, so we ride the migratory boats in the seas to die in it, history and the present are interconnected.

It is worth noting that Aouni's latest work is titled "Hadid's Tears," which dealt with the life of the late Arab architect Zaha Hadid, among his other most famous works: L Scheherazade Korsakov), (Shady Abdel Salam Desert), (The Fall of Icarus), (Secrets of Samarkand) and (Mahmoud Mukhtar) Riah Al Khamaseen) .. In addition to directing many national events and international parties, the most important of which are: the inauguration of the restoration of the Sphinx, the inauguration of the Library of Alexandria and the 2005 Games.

Walid Aouni is the founder and spiritual father of the Egyptian Modern Dancing Troupe, which is the first of its kind in the Arab world, as it has made great successes by tackling topics specializing in Egyptian and Arab arts and civilization and others. He also established, with the Cultural Development Fund, a school to teach the arts of modern theater dance. At the Artistic Creativity Center when it was established in 2001, and the first International Festival of Modern Dance was established in 2009.

"Awni" received many honors, including: the Japanese Medal of Arts, the Knight Medal of Honor from the Lebanese Republic and the French Art and Literature Medal. His name was also registered in the American International Encyclopedia of Dance Arts as one of the most important founders of the contemporary dance movement in Egypt and the Arab world (with Mahmoud Reda "Folklore" and Abdel Moneim Kamel "Al-Bali").

The Egyptian Modern Theatrical Dance Troupe was established in 1993, and the troupe presented more than 26 artistic performances and participated in many international festivals and international operas and traveled to most European countries, America, China and Korea, the Arab countries and presented their performances at the largest and most important international theaters and operas, including: Frankfurt Opera, Beijing Opera and Opera Corignano (Italy).