Coffins in ancient Egypt ... Yuya and Toya 214 pieces of gold in the Tahrir Museum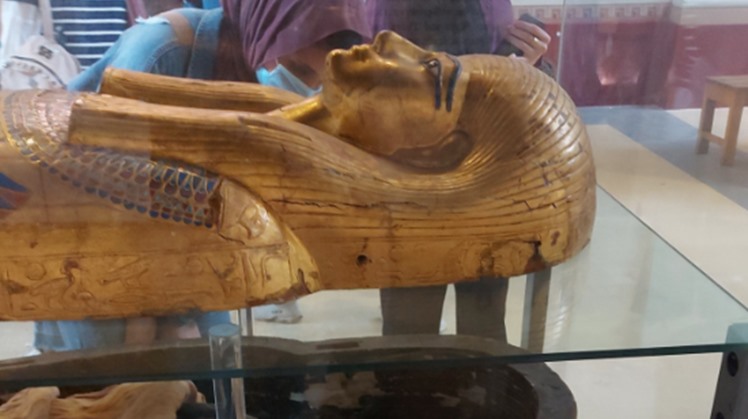 Wed, Sep. 30, 2020
The ancient Egyptian civilization is full of treasures that attract the attention of people in different countries of the world, and among those treasures are the Pharaonic coffins that are being discovered in Egypt successively, especially during the past few years, urging the Egyptian state to provide all the possibilities for the continuation of the excavation work, to extract the Egyptian treasures from the ground, The Ministry of Tourism and Antiquities is working on exiting the pieces in a scientifically sound manner, and we have seen the coffins of the hiding of Asasif and recently the coffins of the Saqqara region, and before that the discovery of the golden coffin of King Tutankhamun, which is being restored at the present time in the restoration center of the Grand Museum, in preparation for displaying it at the opening of the museum at 2021, but there are other gilded sarcophagi that have been erased before, and they are of "Yuya and Toya" in the Egyptian Museum in Tahrir.

The "seventh day" had a tour inside the Egyptian Museum in Tahrir, to monitor Yuya and Toya's holdings inside the exhibition hall of the East Wing of the Egyptian Museum in Tahrir.

The archaeological collection of Tuya and Yuya contains 214 pieces, which are the mummy of Toya and Yuya and their coffins, and the Yuya Papyrus, which includes spells from the Book of the Dead in the cemetery corridor, is 20 meters long, and the new group included the external human coffin of Tuya and the middle sarcophagus for Yuya, and among the group is a box. Canopy by Tuya, decorated with gold decoration, and Liuya's outer rectangular coffin.

Yuya's origins go back to the city of Akhmim, where he belonged to the nobility and was a man of the army, in addition to his work as a priest of the god "Min", the main deity in Akhmim. Yuya held several important positions in the palace, such as the overseer of horses, and his title "God Father" might refer to the distinguished cycle as the king's guardian.



Toya held many religious titles, as well as "the Queen's mother, the great wife of the King", a title she cherished so much, and repeatedly recorded it on her coffins and collections.

Both Yuya and Tuya were highly regarded, most notably their tomb in the Valley of the Kings on the western mainland in Luxor, a place that was designated only for the tombs of kings.

The treasures of Yuya and Toya tomb included monuments that express daily life, such as the war wheel for Yuya, and exquisite funerary furniture of beds, chairs and jewelry boxes made of gilded wood and inlaid with faience, ivory and ebony, in addition to vessels of alabaster and colored limestone.