The "Harvest" a day in the life of the Egyptian peasant by French orientalist Jean-Leon Jerome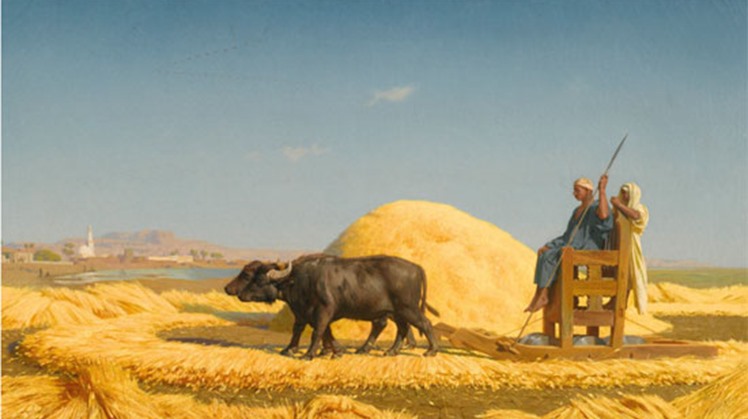 Sun, May. 17, 2020
We go out again to the Egyptian nature, and this time to the countryside through a painting about the old harvest in the countryside, by the French orientalist Jean-Leon Jerome. In the painting we find what the ancient Egyptian peasants call "Norge", a tool that studied "wheat" and was in the ancient time one. Among the most prominent features of agriculture in Egypt.
Jean-Leon Jerome is a famous French painter and sculptor, and is considered one of the most prominent orientalists who came to the Arab and Islamic East during the nineteenth century, and his collection includes historical drawings, Greek myths and the East.
 
In Paris Jean-Leon Jerome learned in the Atelier of classical painter Charles Glair for some time. He tried to enter the salon "Pri de Roue" but he failed and his drawings received no attention. Jerome then worked to improve his skills and he drew the painting of the Cock Struggle and progressed with it and won the third degree medal, and some of his paintings won the second degree medal in France in 1848 AD.
 
He made his trip in the year 1854 AD to Turkey and from there to Egypt and it was his first visit to Egypt. Jerome wrote his travel diaries and later printed it in a book, and his friends, photographers and journalists, shared this trip.
 
Jerome was depicting the scenes he was seeing and then later in his studio to draw them in paintings, as he was also drawing drafts of the effects that he was going through.
 
Jean-Leon Jerome met the Khedive Ismail, and when he returned to Paris he sent him an album containing his photographies for all his works. Jerome and a number of French artists were invited to the opening of the Suez Canal in 1869.
 
In the year 1868 AD, he made a long journey to Egypt and Asia Minor, and visited Cairo's ancient mosques and photographed Islamic architecture.
 
One of his most famous paintings is Bonaparte, which overlooks the Sphinx.
 
Jean-Leon Jerome married Marie-Jubilee and had one son and four daughters. Jean-Leon Jerome died on January 10, 1904 AD in his studio in Paris.