Suez Canal revenues record $27.2B in 5 years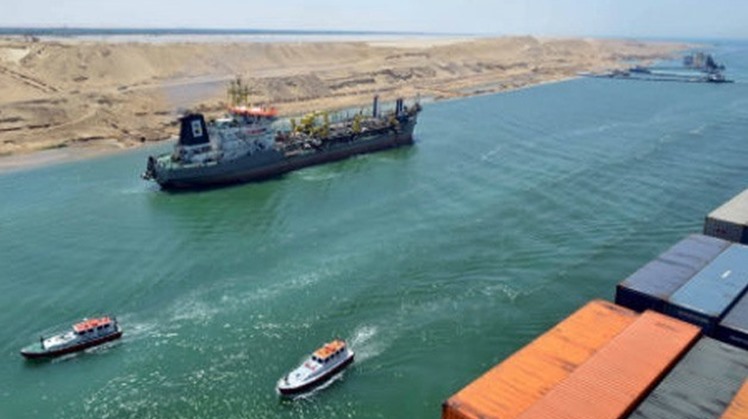 Thu, Aug. 6, 2020
CAIRO – 5 August 2020: "Revenues of Suez Canal have recorded $27.2 billion during the last 5 years as 90,000 ships have crossed with a net tonnage of 5.5 billion tons," Head of the Suez Canal Authority Osama Rabie said Thursday.


Rabie added that the canal's revenues during the first eight months of 2020 hit $3.3 billion, through crossing 11,250 ships, with a total net tonnage of 693 million tons.


This came during the celebration of the authority's 5-year anniversary of the opening of the new Suez Canal, in the presence of the authority's Board of Directors and representatives of shipping lines and a constellation of public figures at the new Marina headquarters east of the canal.


He stressed that the technical and economic feasibility of the New Canal Project did not stop at being just one of the development projects, but was the real starting point towards adopting an integrated development strategy to develop the canal's navigation course, and to maintain its leading position despite various global challenges.


Rabie explained that the plan to develop the shipping channel is proceeding at a steady pace according to the specified schedule and through several parallel steps, most notably the establishment of a series of garages along the new canal, with the aim of increasing safety rates and raising the canal's ability to cope with potential emergencies.


He pointed to the extension of the development plan to include the establishment of caissons and docks for ships, and the development of 16 navigation monitoring stations along the channel that allow benefitting from advanced technology, in addition to the continuation of the periodic maintenance of the channel through the authority's dredge fleet to preserve the dimensions of the canal.


Rabie stressed that the new canal played a pivotal role in raising the canal's classification and increasing its ability to compete, as the growing global role of the canal had a great impact on the emergence of the urgent need to develop and modernize the marine fleet of the authority.