Egypt's security forces kill suicide bomber in N. Sinai, foil attack on checkpoint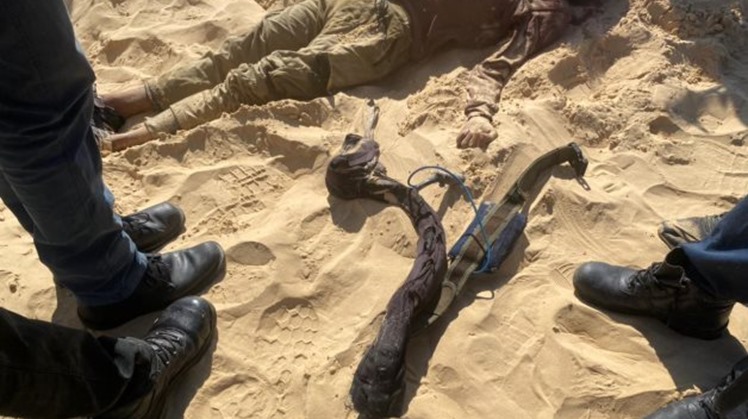 Fri, May. 20, 2022
CAIRO – 19 May 2022: Security forces managed to eliminate a suicide bomber who attempted to launch an attack against a security checkpoint in North Sinai's Tolool area, Egypt's Ministry of Interior said in a statement on Thursday.

Security forces in a security installation exchanged gunfire with the suicide bomber and killed him as he attempted to target the security checkpoint, the ministry said.

The security forces seized an explosive belt, two grenades, an automatic weapon, four weapon magazines, and 112 bullets of the same caliber in the killed terrorist's possession, the statement said.

"This comes in continuation of the Interior Ministry's efforts in countering the desperate attempts by terrorist elements to target Armed Forces and police personnel and [harm] the state's resources," the statement said.

On Sunday, the Egyptian Armed Forces announced targeting a number of terrorist hideouts and killing four takfiris in North Sinai over the past three days.

This came few days after a military officer and four soldiers were killed in a terrorist attack in North Sinai, the Armed Forces announced on 11 May. Seven of the attackers were also killed and a collection of machine guns, walkie talkies, hand grenades, and ammunition were seized.

The spokesperson of the armed forces said in a statement that the military would "avenge the martyrs in its ranks," and that such "desperate attempts by the forces of evil and those who assist them would only increase our troops' insistence on security and safety for the great people of Egypt."

Earlier in May, the military announced foiling an attack by a group of takfiri elements on a water lift station east of the Suez Canal, noting that the confrontation left 11 military personnel killed.

The incident was widely condemned by many countries and international parties. Arab leaders have announced supporting Egypt in the face of the terrorist threats.