Egypt's FM, UNSG discuss unifying efforts to defeat terrorism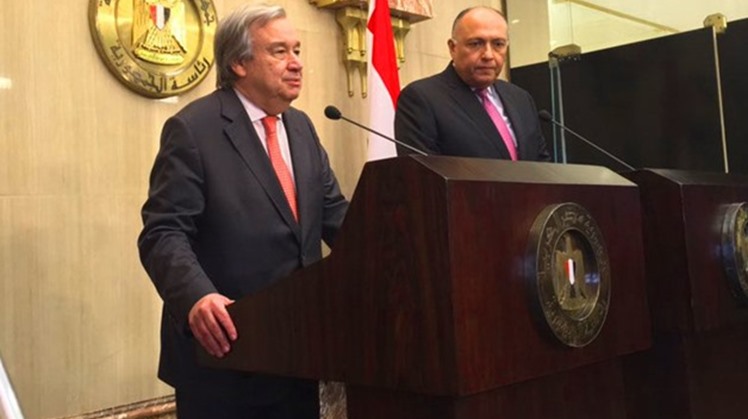 Wed, Apr. 3, 2019
CAIRO - 3 April 2019: Egypt's Foreign Minister Sameh Shoukry discussed with the UN Secretary-General António Guterers, on Tuesday, April 2, means to unify the international efforts to defeat terrorism and extremism.

During his two-day visit to Egypt, the UN Secretary-General António Guterers also met with Egypt's President Abdel Fatah al-Sisi, and Azhar Sheikh Ahmed Al-Tayeb. He also visited Giza's Grand Egyptian Museum.

The two sides will hold a press conference soon on Wednesday, according to state's Akhbar al-Youm.

During their meeting, Shoukry stated that Egypt will continue its cooperation with the United Nations in this regard, through the implementation of the relevant resolutions of the UN General Assembly, in coordination with the concerned UN departments, an official statement said, adding that Egypt will also implement the global strategy to fight terrorism.

The meeting also discussed the recent developments of the international and regional issues, according to Ahmed Hafez, the foreign ministry spokesman. Shouky asserted Egypt's support of the pivotal role played by the UN in tackling the issues that concern the international community, on the political, security and developmental levels.

The two sides exchanged views and assessment toward developments of the regional issues, especially that of Libya, Syria, and Yemen.

Moreover, Guterres and Shouky reviewed the developments of the Palestinian cause, and the means to provide required support to the efforts aiming at pushing forward peace initiatives, and resuming negotiations, until a just and comprehensive solution for the cause is reached.

During the meeting, the ministry spokesman said that Shouky stressed that Egypt attaches importance to strengthen strategic partnership with the UN and the African Union in preserving peace and development, in light of Egypt's presidency of the AU for 2019. Shouky expressed Egypt's keenness to enhance cooperation between the UN and the AU, especially concerning the implementation of the 2030 and 2063 agendas.

Guterres hailed his visit to Egypt, and expressed the important role played by the country in the Arab and African regions. He also affirmed keenness to coordinate and consult with Egypt throughout the coming period.