Meeting Between Shoukry and His Russian Counterpart at the 78th UNGA Session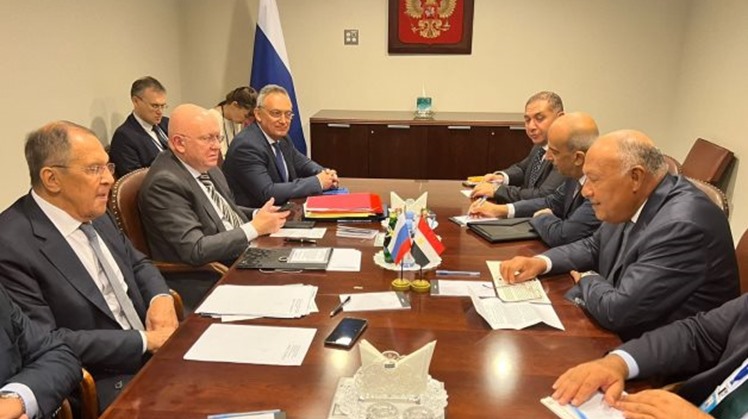 Sat, Sep. 23, 2023
Foreign Minister Sameh Shoukry met on Thursday with his Russian counterpart Sergie Lavrov on the sidelines of their participation in the high-level meetings of the 78th session of the UN General Assembly.

Foreign Ministry Spokesman Ahmed Abu Zeid said Shoukry greeted his Russian counterpart on the 80th anniversary of Egypt-Russia diplomatic relations, voicing Cairo's appreciation for the friendly ties and historic solidarity between the two countries.

The two ministers discussed spheres of bilateral cooperation as well as joint projects between the two countries including El Dabaa nuclear station, the Russian industrial zone in Egypt, as well as joint cooperation in the fields of oil and natural gas, said the spokesman.

The Russian top diplomat said his country welcomed the continuation of providing Egypt with grains despite the ongoing international challenges, added the spokesman.

Talks also covered a number of regional and international issues of common interest topped by the Palestinian issue, the developments in Sudan, Libya, Syria as well as joint coordination of stances at the international fora, the spokesman noted.

Lavrov, for his part, praised economic cooperation between the two countries, as well as the progress achieved in the volume of trade exchange. He also greeted Egypt on joining the BRICS gathering, asserting that Egypt's access to the BRICS will be a real addition to the gathering.

Shoukry, for his side, extended his deep appreciation for the Russian side on supporting Cairo in this regard.