Authentic Israeli-Palestinian Peace is Essential for Reachable Regional Stability: Egypt to Israel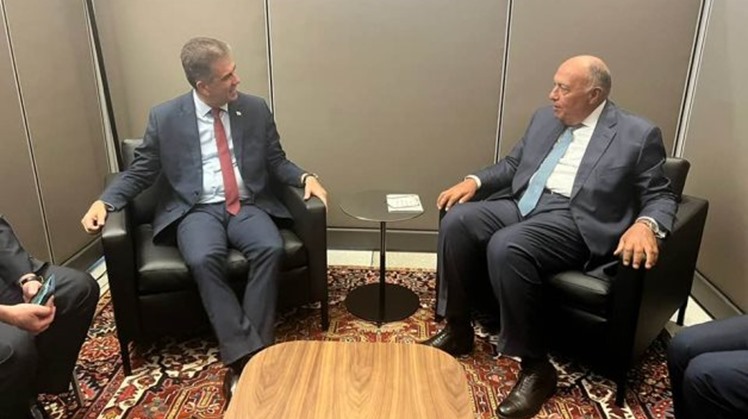 Sat, Sep. 23, 2023
Egypt's Minister of Foreign Affairs Sameh Shoukry stressed that comprehensive and fair Palestinian-Israeli peace is the only guarantee for achieving prosperity, stability and peaceful coexistence in the region.

Shoukry made the remarks in a meeting on Thursday with Israeli Minister of Foreign Affairs Eli Cohen on the sidelines of the 78th session of the UN General Assembly held in New York.

During the meeting, Shoukry said peace between the Palestinian and Israeli sides is based on the restoration of Palestinian rights and the establishment of the independent Palestinian state on the 1967 borders with East Jerusalem as its capital.

houkry urged the Israeli side to prioritize calm and refrain from escalation, highlighting the risks of entering into a vicious circle of violence.

He warned that such circle distance us further each day from achieving the goal of peace and implementing the vision of a two-state solution.

Egypt is committed to continuing all efforts aiming at encouraging parties to return to the negotiations table in order to achieve this goal, Shoukry added.

The ministers discussed a number of files of bilateral relations and the existing cooperation in trade, investment and energy, especially under the umbrella of the EastMed Gas Forum (EMGF).

Israeli violence in Palestinian cities has killed around 190 Palestinians this year, according to a toll by the Associated Press.

Moreover, more than 1,100 Palestinians in the occupied West Bank have been displaced due to the Israeli settlers' violence, according to a UN report on Thursday.