FM Engages in Conversations with His Belarusian Counterpart At UNGA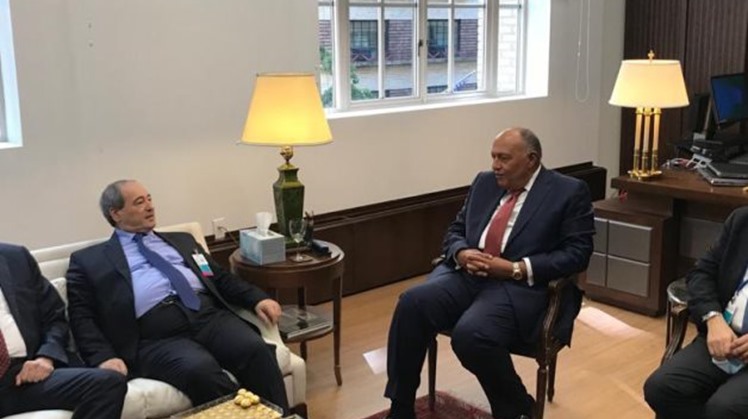 Sat, Sep. 23, 2023
Foreign Minister Sameh Shoukry held discussions on Thursday with Belarus Foreign Minister Sergei Aleinik on the sidelines of his participation in the high-level segment of the United Nations General Assembly.

Ambassador Ahmed Abu Zeid, the official Spokesman for the Ministry of Foreign Affairs and Director of the Public Diplomacy Department, said Shoukry praised the pace of exchange of visits at the highest levels, in light of President Abdel Fattah El Sisi's visit to Minsk in June 2019, while Belarusian President Lukashenko visited Egypt twice, in 2017 and 2020 as he was invited to visit Belarus again.

The meeting covered ways to develop economic relations between the two countries as Cairo welcomes the ongoing discussions to localize some industries in Egypt in cooperation with Belarus, in addition to paving the way for a number of Egyptian goods to enter the Belarusian market, he said.

The Belarusian foreign minister expressed his country's interest in strengthening cooperation with Egypt, as well as implementing a number of joint projects in the fields of agricultural industrialization and transportation, in light of their wish to benefit from Egypt's potentials as a main gateway to the African continent, he added.

He welcomed Egypt's joining the BRICS grouping, which confirms the distinguished position that Egypt enjoys at both the international and regional levels, he said.

They also discussed following up on the formation of the agreed-upon mechanisms to strengthen bilateral relations, including the joint committee and the political consultation mechanism, in addition to exchanging support for the two countries' nominations in various international agencies and bodies, the spokesman said.

The Belarusian top diplomat extended an invitation to his Egyptian counterpart to visit Minsk, he pointed out, adding that they exchanged views on the latest developments in the Ukrainian crisis and its repercussions on regional and international conditions, he added.