President Sisi, King Abdullah II converse about bilateral ties, Palestinian-Israeli cause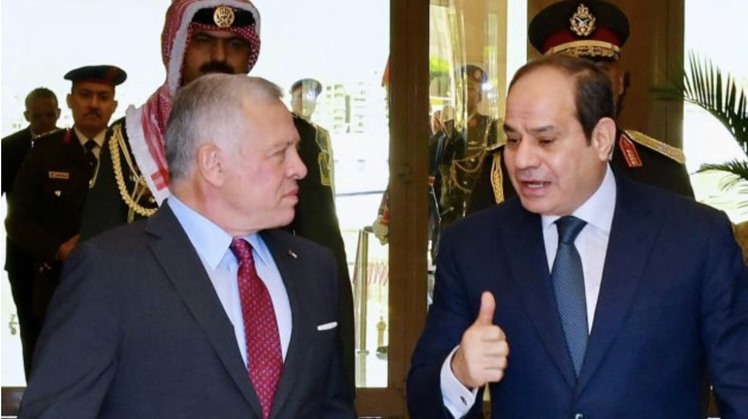 Sun, Dec. 4, 2022
President Abdel Fattah El-Sisi met with King of the Hashemite Kingdom of Jordan King Abdullah II ibn Al Hussein, at Al-Ittihadiya Palace, where an official reception ceremony for his Majesty was held, discussing the latest developments of the Palestinian-Israeli cause.


The Spokesman for the Presidency said President El-Sisi welcomed King Abdullah II in Cairo. The President lauded the robust brotherly relations between Egypt and Jordan and the advanced level they have reached across various areas.



President El-Sisi looked forward to further enhancing bilateral relations for the benefit of the two countries and their peoples, at both the bilateral level and within the framework of the trilateral cooperation mechanism with Iraq, particularly at the economic and trade fronts. The President also commended the Jordanian government's efforts to give due care to the Egyptian community in Jordan.



King Abdullah II expressed Jordan's profound appreciation for Egypt at the official and popular levels, stressing that it also values the longstanding bonds it shares with Egypt and the progress in their relations within the framework of the trilateral cooperation mechanism with Iraq. The Jordanian King underscored his country's keenness on benefiting from Egypt's developmental efforts in all fields by sharing expertise and through joint investments.



The meeting focused on the latest developments in the region, notably the Palestinian issue. There was an alignment in views with the regard to the need to boost their countries' efforts, so as to provide full support for the brothers in Palestine and to work toward reviving the peace process, in order to reach a just and comprehensive solution to the Palestinian issue. This solution shall ensure the legitimate rights of the Palestinian people in line with the resolutions of international legitimacy.



The two leaders also discussed a multitude of issues of common interest. They reiterated the importance of consolidated and concerted efforts by Arab countries to counter the current crises in some countries in the region, within a framework of respect for their sovereignty and territorial integrity and with the aim of ending the humanitarian suffering of their peoples.